Gliding effortlessly from lead roles on television to bagging international movies and clinching webspace with intriguing anthologies, Mrunal Thakur is all about experimenting with platforms. Gifted with a versatile personality, she has the unique capability of portraying dark characters such as Sonia from Love Sonia with the same ease as the cheery lady love Supriya Singh in Super 30. Similar ease radiates throughout the freewheeling conversation we had with her on her childhood travel memories, favourite vacations and more!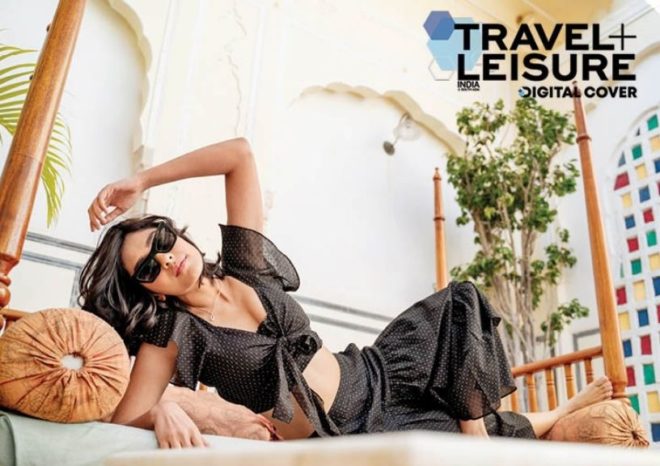 1.
Where were you born and raised?
I was born in Dhulia. It is in Maharashtra, very close to the Madhya Pradesh border. However, since my father is a government employee, my family and I shifted every three years. My childhood, in that sense, has been crazy. I've changed 11 schools and two colleges! Having said that, I've spent most of my time in Mumbai because of college and work.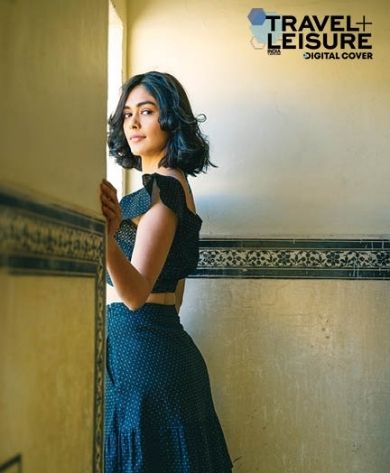 2.
Of the many places you've lived in, any particular one that stood out for you?
I used to live in a place called Shrirampur, around 30 minutes from Shirdi. The first time I went there because of my dad's posting, I remember complaining about it. But when I reached there, I couldn't believe what I saw. It was unlike any other place I had ever lived in before. We lived in a row house right in front of a canal. There were mustard fields and sugarcane farms around us. I saw cornfields and pineapples growing right from the fields for the first time there! Earlier, I had lived in Nashik, Nagpur, Jalgaon, and even Yavatmal, but none of them was this exceptional.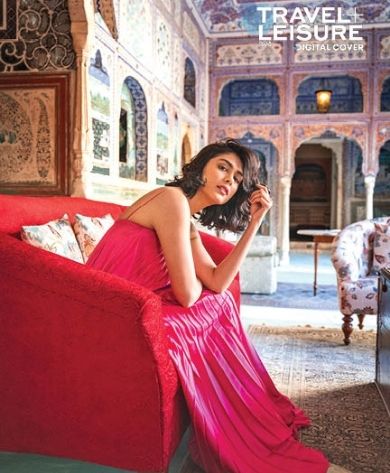 3.
Do you remember your first holiday, both — with family, and without?
My first solo vacation was actually work-cum-holiday. I had gone to London — my first international travel — for a shoot. My parents were very excited when they saw the United Kingdom visa on my passport because I was the first girl to fly international for work and that too without having to spend a penny. I worked there for two days, and then I explored London for two. The city was wonderful! I went to Southampton even though my parents gave me strict instructions not to roam around much because they were worried about me. Instead, I would put on my shoes, and walked around the city. I saw the London Eye and found it fascinating. Even today, I love going there, sitting in the giant wheel and watching tourists go by. It's incredible.
My first holiday with my family was in Thailand, Bangkok, Singapore, and Malaysia. While going, my parents kept bragging to the fellow passengers about how their daughter is an actress, and how she went to London for her first television show!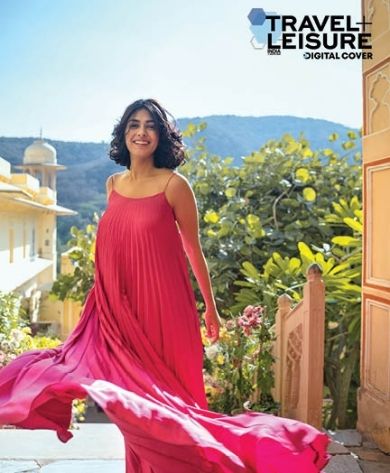 4.
Have you ever been on a solo trip just for the sake of holiday-ing alone?
I went to Jaipur recently to just be with myself because, with the kind of profession I'm in, we rarely get a chance to do that. I absolutely love Jaipur. I've been there many times. In fact, my first movie Love Sonia was shot there. This time when I went there, I tried staying close to those places where we shot and relived those moments. Apart from that, I ate a lot of food. When in Jaipur, dal baati choorma is a must. I even went to Rawat to eat onion kachoris. I packed some and got them home along with some rasgullas and rasmalai. It was absolutely worth it! Not just the food, though, the people of Jaipur and their hospitality is also amazing.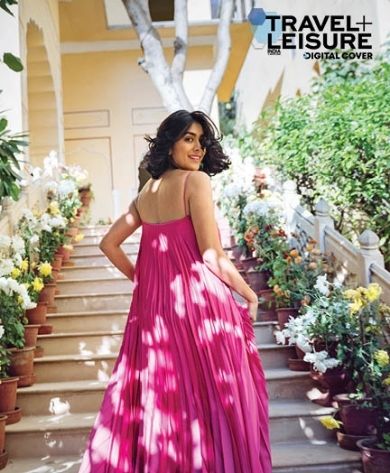 5.
What did you like the most about Jaipur?
There's so much to like about Jaipur! The heritage, the palaces; the city palace in particular! With cities like Jaipur that have places like Sheesh Mahal and Hawa Mahal, it's always great to go back. They remind you so much about Indian culture, it's amazing.
6.
Define the essence of the city in three words.
Obviously, the first thing I can think of is 'The Pink City'! Plus, rich in culture and delicious food.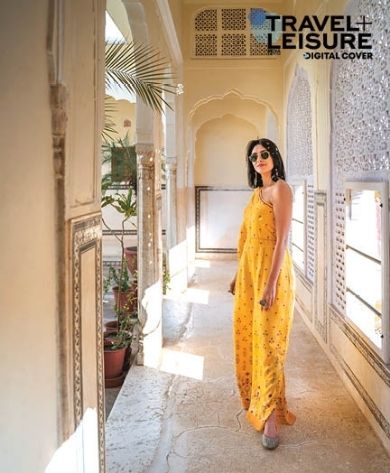 7.
You were in Kolkata last year. What all did you explore?
I remember when I was travelling from the airport to the hotel, the entire city was lit up. It was lovely, and the vibe was absolutely different. I think the people of Kolkata are the best thing about the city — they're just so sweet! Also, when you're in Kolkata, you have to eat rasgulla or mishti doi or your trip is of no use!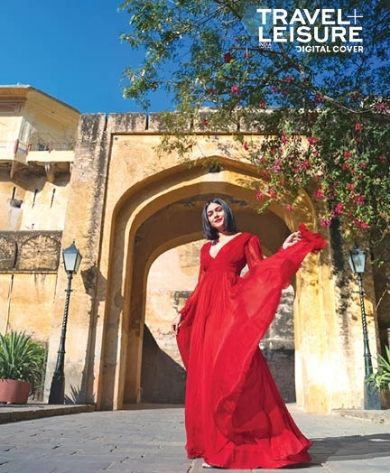 8.
What did you love the most about Switzerland?
Creme brûlée! I even loved paragliding in Switzerland. At first, I was really scared that I would break my hand or leg while landing, but I realised it was a once-in-a-lifetime opportunity, and I should just put on my gears and get ready to fly. When you're in the air, you can see the entire city. I can't express how amazing it was!
Visiting Interlaken in Switzerland also felt very good. There's a statue of Yash Chopra there, so it felt nice to see how much Indian filmmakers are appreciated in Europe. I'm also a huge fan of Charlie Chaplin, so I got a chance to see his museum where his shoe, hat, and stick are kept.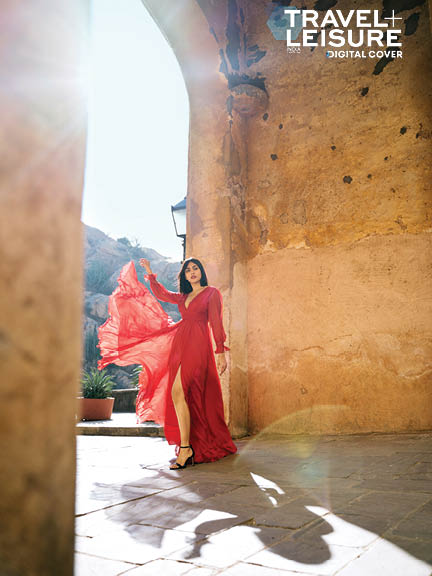 9.
Any hidden gems of Switzerland that you feel is a must-visit?
There's this mountain in Zermatt called the Matterhorn. I found out that the chocolate Toblerone got its triangular shape based on these mountains. Also, for people who absolutely love vintage cars, there's an entire section outside the Charlie Chaplin museum for them. The cars there are gorgeous! In fact, the Charlie Chaplin museum itself is another world to be explored. They show how to shoot stop motion, how the movies used to be made, and all his tricks as well. I think the best way to travel around the country is to take public transport because that way you get to explore the city better.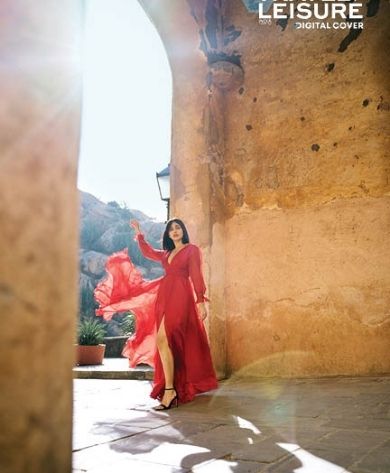 10.
What do you like to read when on a long flight?
I love reading poems, and Rupi Kaur is my favourite. I feel the younger generations, including mine, can relate to her poems because they always encourage you and motivate you.
11.
Are you a backpacking kinda girl or a luxury traveller?
Backpacking, of course!  I think backpacking is the best thing. Just carry two tee shirts, two jackets, one pair of shoes, one pair of slippers, two pairs of socks, and a cell phone. I think it's always great to travel light because sometimes when you have a lot of luggage, you spend a lot of your time packing and unpacking — hunting for what you need. It's better to keep things limited and know exactly where what is.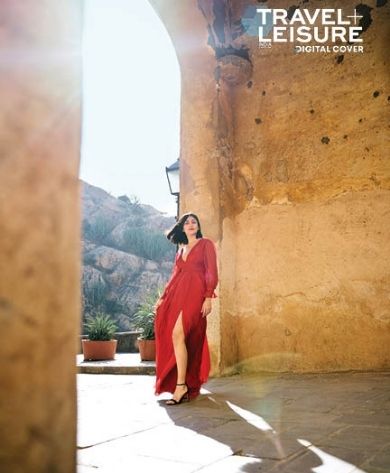 12.
What's your take on conscious travelling?
We need to be responsible and lead a disciplined life. I think, somewhere down the line, we humans are responsible for the climate change and it is us up to us to make it better. We need to stop using products made out of animals and stop using plastic.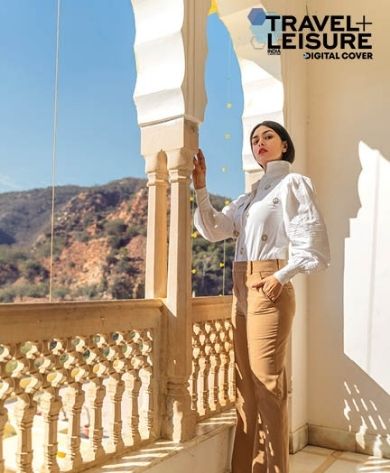 13.
When travelling, what are some of the key things you keep in mind?
If you're travelling alone, you need to have a good SIM card with good 3G connectivity and Google maps, of course. When I'm travelling, I give contact details of the hotel to my parents in case I'm not reachable. I also keep them updated about my whereabouts. Keep local currency with you, and always carry medicines.
14.
Do you like your holidays well researched and planned? Or, are you an impromptu traveller?
If I'm travelling for four days, I plan two and let the other two days be impromptu. I feel the moment you know your itinerary, you're stuck thinking of going from one place to another. In Switzerland, for example, I walked around aimlessly and found myself at a Church. Even though I spent hours there, it felt like a few minutes. So, I feel sometimes it is better to just go with the flow.
15.
Your bucket list destinations?
I really want to go to Mauritius. Egypt is also on my mind. I find it fascinating how people say they can see the pyramids from anywhere in the city when in Egypt. Then countries like Jordon, and Taiwan are their on my bucket list too.
17.
Favourite International and India destination?
Langkawi! I really want to go back there. It's so quiet, peaceful, and green. In India, I really love going to Dhule. When I go there, I only hear about farming from my now-retired grandfather. He has a mango garden right in front of his house, and many guava baugs and cheeku baugs. There's even a native fruit there, called Dongarchi Kali Maina. It's similar to mountain berries. Every time I visited Dhule, I would eat those with black salt. It was lots of fun.
18.
What destination would you recommend to women travellers?
Please visit Mussoorie. The hotels, the rides, the fog, the snowfall…all of it is amazing. And if like me, you enjoy nature and being by yourself, then Mussoorie is the place for you. While there, have Maggi and tea for sure!
19.
Five things you never travel without?
I always feel cold, so I travel with a jacket. Then my shoes, phone charger, headphones, and an extra foldable bag, just in case I want to shop!
Photography by
Lensetherapy