When revisiting our archives, we were reminded of how some hotels set the standard for an era. And while the mood of Thailand in the 1990s or Tokyo in the 2000s might be a distant memory, this summer's styles can transport us there. By Liz Cantrell
Travel Style of the 1970s: La Mamounia
From the late 60s through the next decade of the counterculture, Marrakesh's La Mamounia (doubles from USD 536/INR 39,750) drew a bohemian crowd—David Hockney, Anita Pallenberg, Paul McCartney—who wore the heady prints to match.
Gucci dress,USD 11,000 (INR 8,15,766), tulle slip, USD 490 (INR 36,338), and felt hat, USD 615 (INR 45,608); gucci.com. Giuseppe Zanotti sandals, USD 1,095 (INR 81,205); giuseppezanotti.com. Fruzsina Keehn necklaces with smoky topaz and gold beads, USD 2,000 (INR 1,48,321) each; fruzsinakeehn.com.
Travel Style of 1980s: Beverly Hills Hotel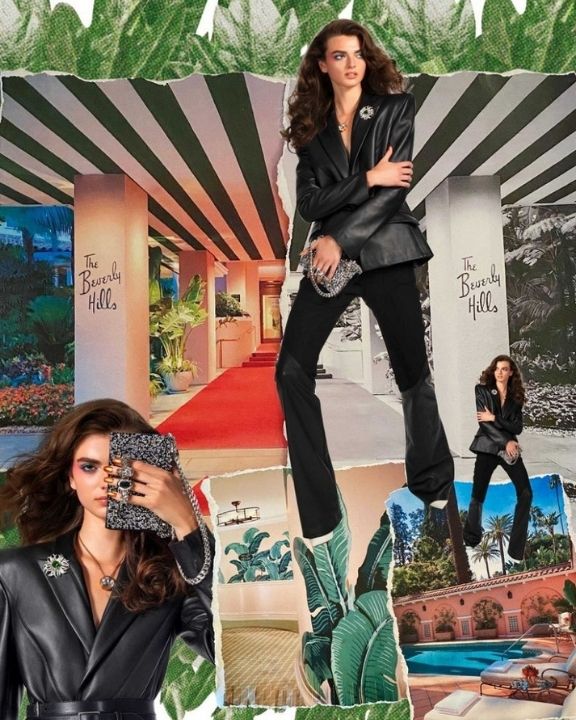 Big hair, big shoulders, big stripes! In an era of excess, poolside at the Beverly Hills Hotel (doubles from USD 1,115/INR 82,689) was the place to be seen.
David Koma leather jacket, USD 2,360 (INR 1,75,018), and trousers, USD 1,480 (INR 1,09,757); davidkoma.com. Giuseppe Zanotti pumps, USD 750 (INR 55,620). Alexander McQueen satchel, USD 2,390 (INR 1,77,243); alexandermcqueen.com. Fruzsina Keehn brooch with a green tourmaline and diamonds, USD 25,000 (INR 18,54,013). Versace gold necklace with a crystal pendant, USD 550 (INR 40,788); versace.com.
Travel Style of the 1990s: Amanpuri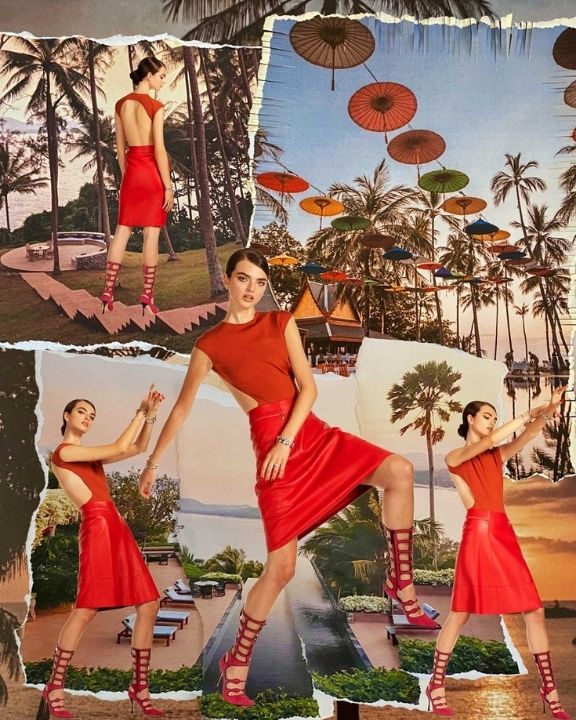 The end of the millennium was all about minimalism, whether in the barefoot luxury—and total seclusion—of Amanpuri (pavilions from USD 750/INR 55,620), in Phuket, Thailand, or the discreet elegance of matching separates.
Hermès bodysuit, USD 2,300 (INR 1,70,569), and skirt,USD 6,050 (INR 4,48,671); hermes.com. Manolo Blahnik boots, USD 2,665 (INR 1,97,637); manolo blahnik.com. On model's left arm: Tiffany &Co. HardWear link bracelet, USD 17,500 (INR 12,97,809), Atlas X wide bangles, USD 12,000 (INR 8,89,926) each, T T1 ring, USD 5,700 (INR 4,22,715), and Atlas X wide ring, USD 4,000 (2,96,642). On right arm: Tiffany & Co. T T1 wide bangles, USD 19,900 (INR 14,75,794) each, T T1 narrow bangle, USD 9,900 (INR 7,34,189), T T1 wide ring, USD 3,800 (INR 2,81,810), and T T1 narrow ring, USD 1,700 (INR 1,26,072), all in white gold with diamonds; tiffany.com.
Travel Style of the 2000s: Park Hyatt Tokyo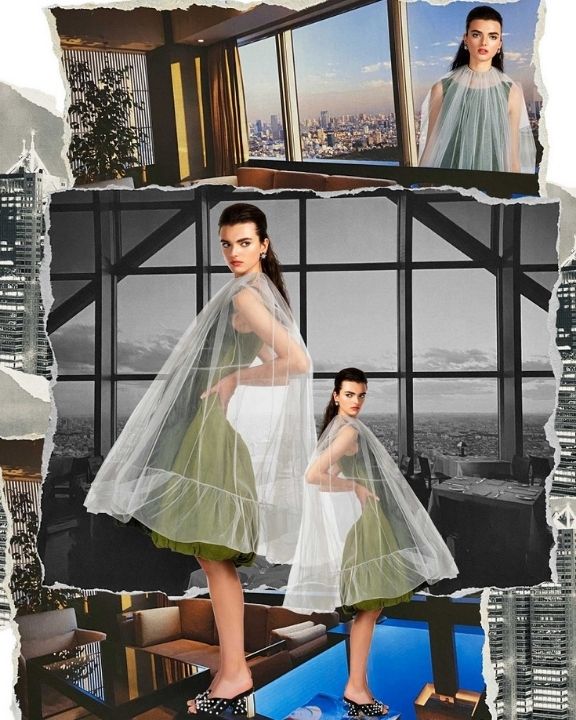 Brooding in hotel bars never seemed as chic as in the 2003 film Lost in Translation, which thrust the understated Park Hyatt Tokyo (doubles from USD 353/INR 26,178) into the spotlight.
Loewe dress in taffeta and tulle, price upon request; loewe.com. Salvatore Ferragamo sandals, USD 995 (INR 73,789); ferragamo.com. Fruzsina Keehn earrings with rubies, USD 12,800 (INR 9,49,255).
Travel Style of the 2010s: Ace Hotel New York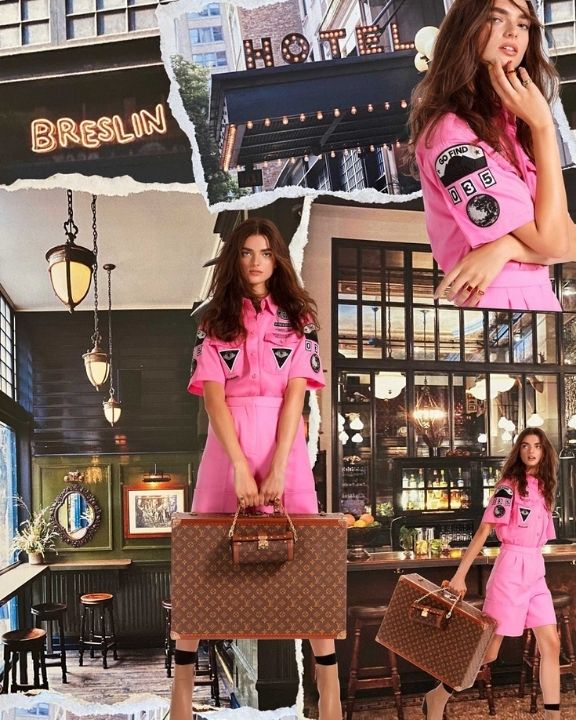 The lobby of the Ace Hotel New York (doubles from USD 176/INR 13,052), set in the former Hotel Breslin, made for one big house party: it's where digital nomads, fashion darlings, and the occasional streetwear-clad celebrity took coffee meetings—then stayed up well into the night.
Burberry shirt, USD 800 (INR 59,328), shorts, USD 650 (INR 48,204), and boots, price upon request; us.burberry.com. Louis Vuitton Bisten 80 suitcase in monogram canvas, USD 10,500 (INR 7,78,685), and Papillon trunk, USD 2,630 (INR 1,95,042); louisvuitton.com. On model's right hand: Tiffany & Co. Paloma's Studio three-stone ring with amethysts, USD 3,100 (INR 2,29,897), and pyramid ring with tanzanites and tourmalines, USD 6,500 (INR 4,82,043). On left hand: Tiffany & Co. Paloma's Studio four-stone ring with rubellites and amethysts, USD 17,300 (INR 12,82,977), and pyramid ring with citrines and rubellites, USD 4,900 (INR 3,63,386).
Model: Bentley Mescall at IMG Models. Hair by Moiz Alladina at the Wall Group using Leonor Greyl & Randco. Makeup by Megan Kelly at Intellectual Property using Tata Harper & Shiseido. Manicure by Nori at See Management using Chanel Beauty.
A version of this story first appeared in the August 2021 issue of Travel + Leisure under the headline The Way We Wore.
Related: 11 Exciting New Hotels In Rome For Every Type Of Traveller