Like a Breeze: With Conrad Bengaluru's bespoke offerings, dream nuptials come to life gracefully. By Bayar Jain
Located in the heart of the Garden City's central business district, overlooking Ulsoor Lake, Conrad Bengaluru is a plush 24-storey hotel. As part of the innovative Wedding Diaries by Hilton initiative, the hotel offers bespoke wedding services, and doubles as an elegant venue for a modern wedding—one that you are sure to remember for a lifetime.
"Stitching every memory together with the Hilton hospitality and experiencing luxury in [its] true sense [is] what makes your dream wedding a reality," says Srijan Vadhera, general manager, Conrad Bengaluru. Be it a bridal shower, an engagement, or the wedding itself, the well-equipped hotel promises a memorable experience for all sorts of celebrations. In-house experts and the ease of having everything tailor-made to your needs make hosting a wedding akin to a cakewalk. Add to that Bengaluru's quintessential cool breeze—the perfect cherry on top.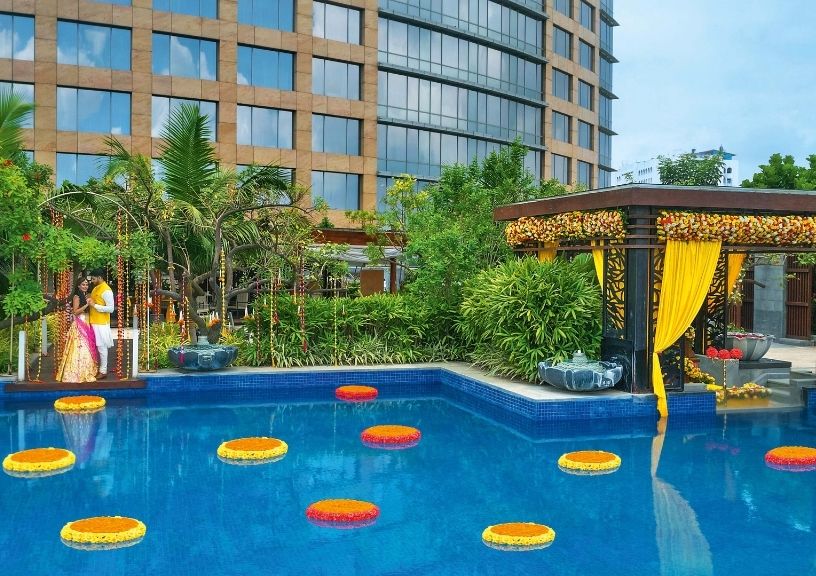 Conrad Bengaluru takes care of the culinary feasts in style. Besides a team of experts who can curate the menus the way you want them to be, the property offers a separate kitchen dedicated to vegetarian meals. Specialising in Marwari, Jain, Gujarati, and Rajasthani cuisines, the in-house maharaj (head
chef) works magic with myriad ingredients, recipes, and flavours. The hotel has a room ideal for a nikah ceremony, while the gurudwara next door is a convenient option for those looking to include a Sikh ceremony with their lavish celebrations at the hotel.
What's more, each carefully curated experience by Hilton EventReady is underlined by the CleanStay initiative, which means that every celebration will not only be unforgettable, but safe, secure, and socially responsible, too. hilton.com
Related: Hilton Goa Resort and DoubleTree By Hilton Goa-Panaji Are Dreamy Locations Perfect For Your Goan Wedding!