When it comes to weddings, one is often faced with the question, "How much is too much?" Celebrity stylist Tanya Ghavri talks about minimalism and sustainability, and how they help add glamour to a winter wedding. By Anushka Goel. Images courtesy of Tanya Ghavri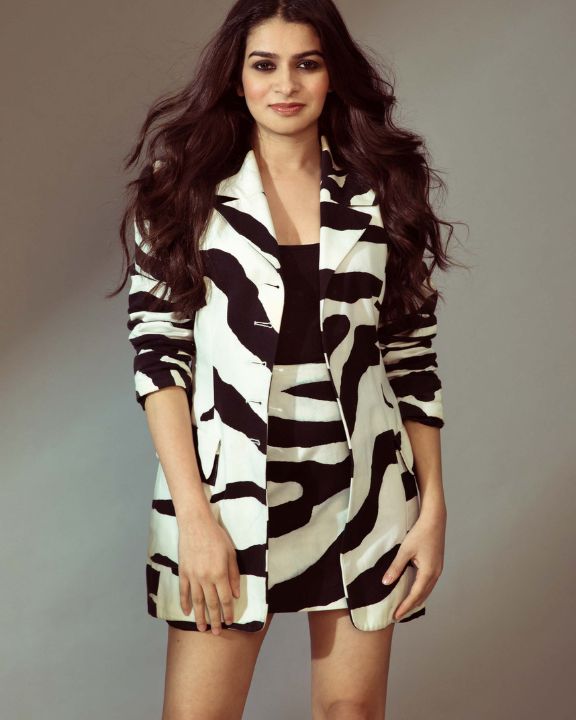 T+L India: What are the top three bridalwear trends this year?
Tanya Ghavri: I think the top bridalwear trends this year have to include layering. It's something that brides should be looking at because it's trendy, cool, interesting, and makes for a different look. Whether it's cropped jackets or a long Anamika jacket under a sari, it's beautiful—especially if you're getting married in the winter.
Another bridal trend that I'd recommend has to be wearing hues of greys and blues, and deeper colours. Sticking to one statement jewellery piece is another bridal trend this year. As a bride, you're going to layer jewellery. But for other events, such as your mehendi and haldi, focus on one statement piece.
T+L India: What colour palette will do the rounds this season?
Tanya Ghavri: I think tone-on-tone is doing really well; so are light prints—whether it's jewel tones for the night, or using the same colour for the embroidery and the lehenga. Embroidery on light prints is subtle yet classy.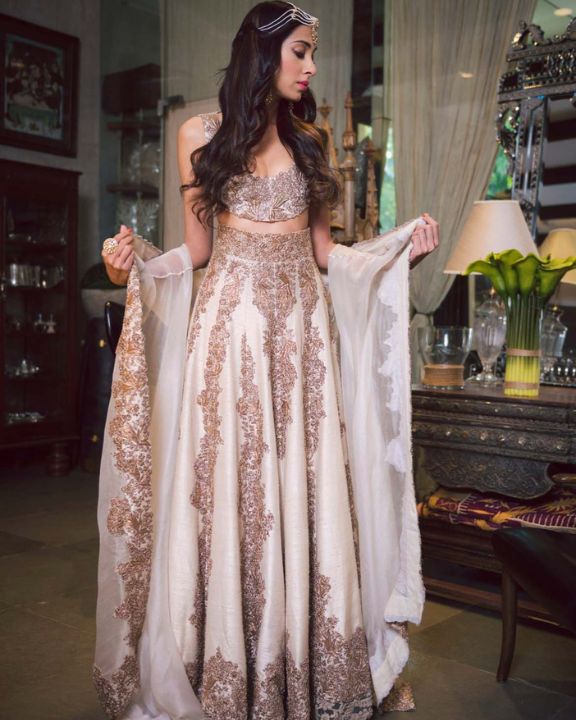 T+L India: Your favourite bridal outfit for day weddings?
Tanya Ghavri: I love beautiful ombré tones, like a light blue going into a darker blue. Colours work really well, whether it's tones of yellow, pinks, or peaches. But, honestly, I think white and gold is a classic [combination]. Sometimes, an egg-white-and-gold pairing is a beautiful day shade, too.
T+L India: Which bridal look do you recommend for evening ceremonies?
Tanya Ghavri: I have always loved jewel tones for evening ceremonies!
T+L India: When you style a bride, what are the things you take into consideration before finalising the look?
Tanya Ghavri: I think it's most important to figure out your jewellery. Then figure out who your hair and make-up artist is going to be because they get blocked months in advance. Then, figure out your venue—whether it's outdoors or indoors—the weather at the time of your wedding, the colours used for the décor, and who is going to do the décor so that you don't pop too much.
Once you figure out your jewellery, match your outfits to it. Figure out who your top five designers are, start looking at their Instagram, figure out your edits, the colours you favour, and then meet your designers to get their inputs. If you have a stylist, figure out the styles that flatter your body type with them.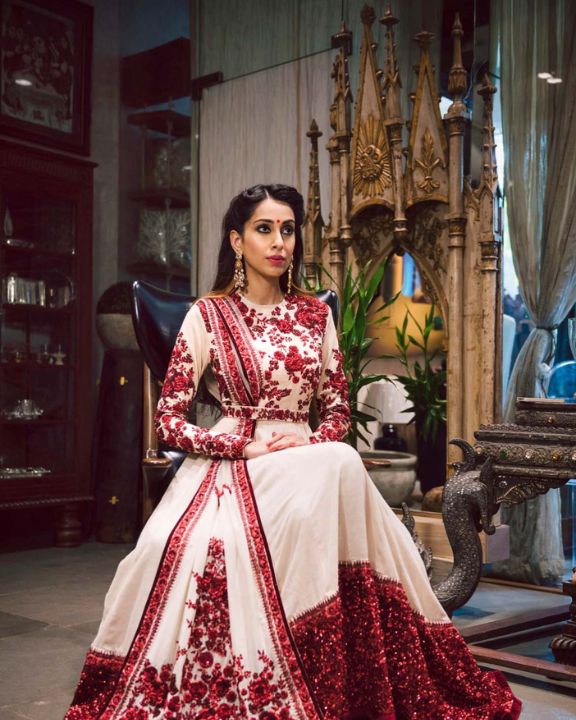 T+L India: These days, brides prefer a minimalistic look. How should a bride style herself for the big day without overdoing the layers?
Tanya Ghavri: I agree that minimal is the way to go. I always say that when you wear a statement piece, it's about that piece, and you don't need to be overwhelmed by too much jewellery, hair, and make-up. You still need to look like yourself. Let your outfit stand for itself, and wear one piece of jewellery that looks beautiful. Just wear something that elevates your outfit. If you understand how to balance your look, I think that's good enough.
T+L India: How can a bride aim for sustainability without compromising on glamour?
Tanya Ghavri: Don't look at a lehenga that's too heavy. Maybe look at neutral colours. A lot of people like beautiful, archived, vintage pieces; that is something that you can choose, too. Use a vintage piece from your mom's wardrobe, restore it, and wear it for one of your wedding functions.
T+L India: A bride you loved styling?
Tanya Ghavri: Without a doubt, the most special bride I styled was my sister. I was really excited to work with her on her wedding day. It was, of course, really emotional to style her. We had lots of fights but, eventually, she agreed with me on everything.
Related: Elevate Your Bridal Trousseau With Elegant Pieces From These Top 10 Jewellery Labels