Hilton Goa Resort and DoubleTree By Hilton Goa-Panaji Are Dreamy Locations Perfect For Your Goan Wedding!
Sunshine State of Mind: Goa is not just for beach weddings. Blessed with rivers, lush forests, hillsides, and a rich heritage, the tropical state offers plenty of backdrops for your destination wedding. We check out two dreamy locations: the sprawling Hilton Goa Resort perched on a hillock overlooking River Nerul, where actor Pooja Hegde plays bride for this issue's cover, and DoubleTree by Hilton Goa-Panaji along River Mandovi. Together, they make up the Goa chapter of Wedding Diaries by Hilton. Text by Anushka Goel & Rashima Nagpal
Produced by Rashima Nagpal
Photographed by Taras Taraporvala
Assistant Photographer Meetesh Mirchandani
Styled by Meagan Concessio
Assistant Stylist Humaira Lakdawala
Hair by Suhas Shinde
Make-up by Kajol Mulani
Location Hilton Goa Resort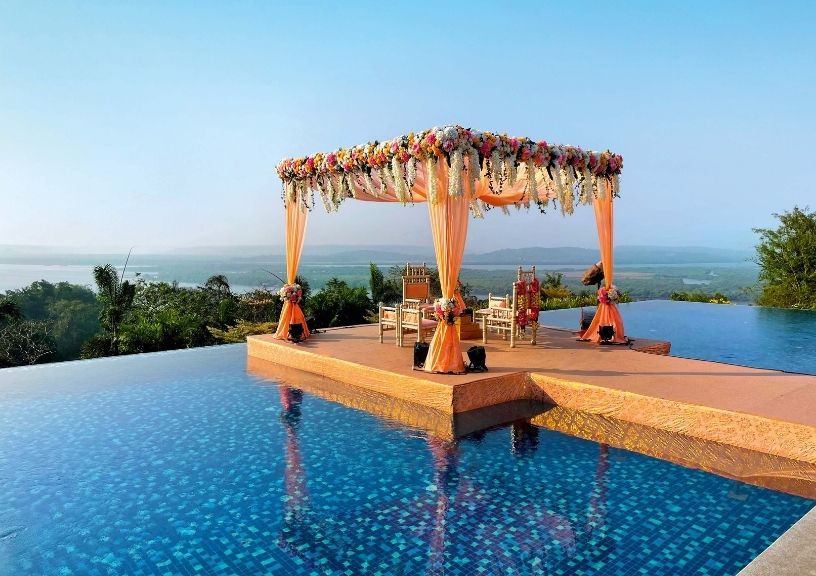 From big, fat and traditional to intimate, modest and modern, the great Indian wedding has come a long way. Thanks to the pandemic, destination weddings have changed dramatically too. With health and safety being people's foremost priorities, familiar territories closer to home in India are seeing a surge in demand. Not that India ever lacked the variety or appeal of venues for hosting these, but there's something to be said of necessity leading to rediscovery. Goa is one such special destination.
View this post on Instagram
Hospitality icon Hilton is au courant with the latest trends. So, it is launching a bespoke wedding service called Wedding Diaries by Hilton, with a choice of several properties around the country. For this special issue, we land in Goa, where you have two river-facing properties—Hilton Goa Resort and DoubleTree by Hilton Goa-Panaji—as potential venues for big celebrations.
Hilton Goa Resort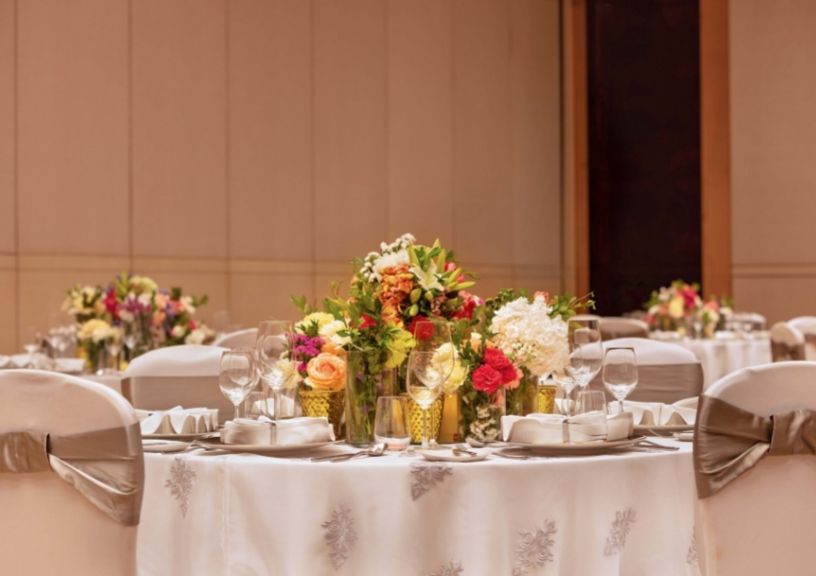 The hour-long drive from Dabolim Airport to Hilton Goa Resort gives a glimpse of the best of Goan landscapes, from the shoreline to hillocks, mangroves, and old Portuguese buildings. Launched last year, Hilton Goa Resort falls in North Goa, but the property feels a world away from the state's popular shores. A swift left turn from the highway leads us towards the suburbs of Marra and Saipem. The meandering Nerul River keeps us company until we drive up the hillock upon which the property
sits. Inspired by the heritage forts of Goa, the resort is built in rusty-red laterite stone. Elegant curves lead you to the main porch area, which is decorated with a life-size anchor that symbolises a fort. The hotel is also spread out like a fort, with different blocks—named after the forts Aguada, Corjuem, Cabo de Rama, and Rachol—and no more than five levels interconnected with staircases.
The property charms us from the moment we set foot in it. The lobby features a conical roof with wooden planks, traditional tiled flooring, marble table tops, and panelled windows that frame the surrounding greenery. At the heart of the resort is its all-day-dining venue, @Saipe, which takes its name from the neighbourhood. Besides a long list of regional and international delicacies, @Saipe serves uninterrupted views of the sunset from its al fresco corridor—as does the pool area, and many of the rooms. @Saipe's
offerings are complemented by the property's lounge bar, Coco, and its delicatessen, Doce. Goan influences, too, are sprinkled throughout the 104-room property. It doesn't take us long to envision a wedding in its regal yet modern setting. The resort's versatile spaces can be customised and dressed up to suit a variety of events: engagement ceremony, cocktail party, bridal shower, sangeet night, wedding ceremony, and reception.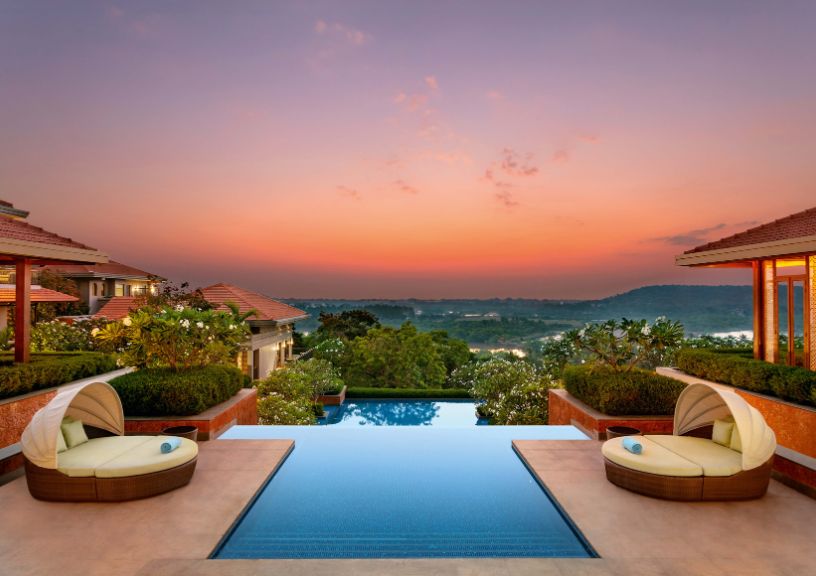 You can't have a great wedding without great food. At Hilton Goa Resort, you need not worry about your guests' gastronomic needs. Executive Chef Ashley Nunes tells us that the food served here centres around local ingredients, not cuisine. This, he says, helps them tailor menus for events and celebrations. Since the offerings of Wedding Diaries by Hilton are not limited to any one property, Hilton Goa Resort can get chefs from its sister properties, or hire experienced local chefs, to put together the menu you desire for your celebrations.
DoubleTree by Hilton Goa-Panaji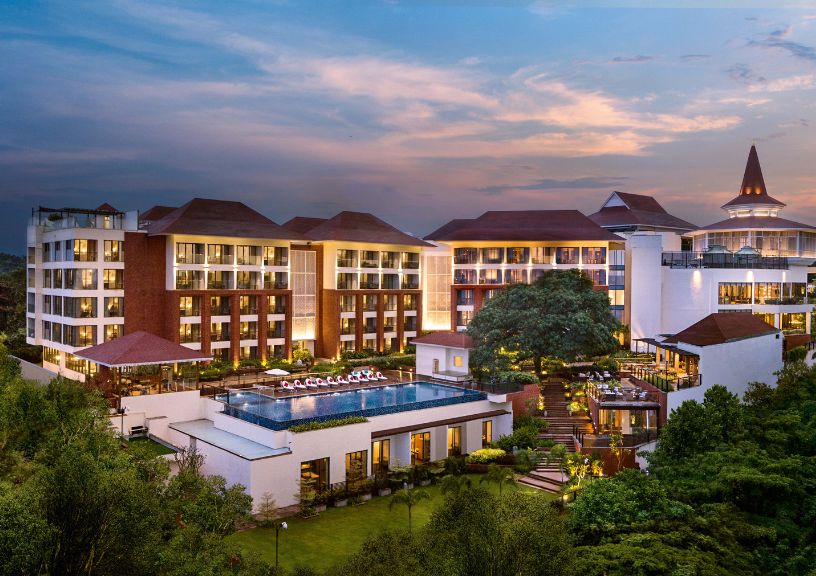 Three-year-old DoubleTree by Hilton Goa-Panaji offers yet another gorgeous backdrop to mark your special day in the Sunshine State. Standing tall on the bank of the gurgling River Mandovi, a stone's throw away from Divar Island, this contemporary property comes equipped with a state-of-the-art ballroom and an infinity pool. It has 160 spacious rooms and suites—enough to accommodate a big gathering, and then some. This Hilton hotel highlights the cultural riches of the state in its three restaurants. Comida, Feliz, and Rio Salao—all Portuguese names—offer something for every palate. Inspired by Portuguese architecture and Goan lifestyle, Comida boasts live cooking stations and a mix of Western, Indian, and Asian fare, while putting the focus on local produce. Feliz offers a truly romantic al fresco seating overlooking the river, and coastal dishes to feast on. In front of Feliz, there's a sunset lawn that is equally good for hosting a mehendi function in the day and a sangeet or cocktail party in the evening. Trust Rio Salao to offer you a much-needed breather from the hectic arrangements and a relaxing cuppa between events.
Hosting a wedding with Wedding Diaries by Hilton ought to make the experience entirely seamless at whichever property you choose. Couples can book customised packages to cater to their needs. From the venue décor to photoshoots, in-room welcome hampers, a dedicated check-in desk, personalised key cards, luggage tags, bath amenities, monogrammed accessories, and more, the offerings can be tailored to every whim. To mark the launch of this service, the brand is offering Wedding Bliss, an offer available till 30 November for events until 31 March, 2022. It includes additional perks such as a bridal suite, in-room breakfast, a dedicated photoshoot venue, sparkling wine and appetisers, and triple the points on Hilton Honors that the couple can redeem on their honeymoon!
Dreamy Hilton Properties Around India
Related: Exclusive Shots: Pooja Hegde Dressed As A Bride At Hilton Goa Resort!