Ditch the regular wedding cakes and treat your guests to these unique, quirky, and absolutely delicious goodies, instead. By Satarupa Paul
Gone are the days of the traditional tiered wedding cake, lathered in vanilla frosting and piped with colourful icing that pronounce you happily wedded. Last season witnessed the rise of intimate—and dare we say, more meaningful—gatherings of loved ones coming together to celebrate your big day. The enhanced safety protocols also meant ditching the multi-tiered communal cake for alternatives that could be served as individual portions, and yet retain the celebratory essence of a wedding cake. From towers of macarons to beautiful arrangements of Indian mithais, wedding-cake alternatives have assumed lives of their own, and how.
Wedding cake alternatives that ring in the celebrations with a quirky twist
Floral Bouqcakes by Guldasta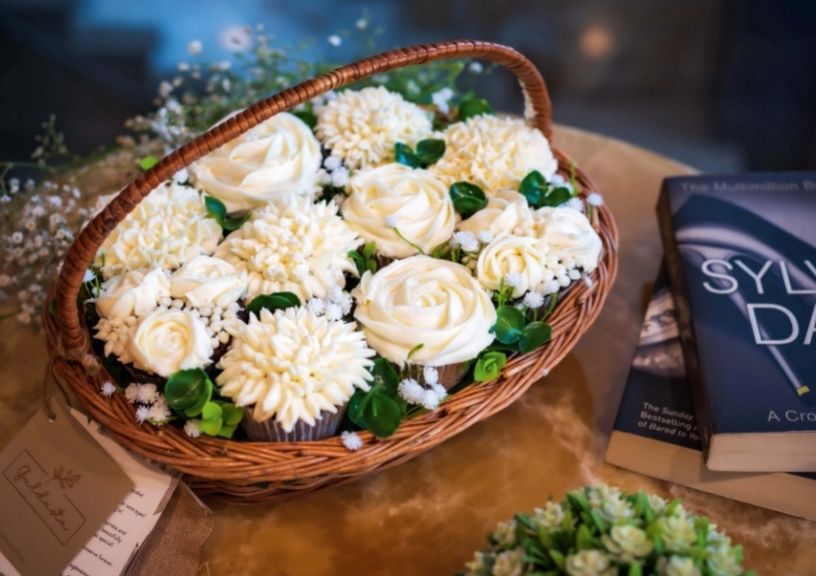 Floral bouquets and cakes have been staple gifting picks in India for a long time now—not just for weddings, but for other occasions, as well. Drawing inspiration from this timeless union, Delhi-based pastry chef Rhea Malhotra started Guldasta in 2020 to combine the beauty of floral bouquets with the deliciousness of cupcakes. "More and more people are moving away from traditional weddings to smaller, personally curated celebrations at home, where 'bouqcakes' can work as a great substitute for the usual cake," says Malhotra. Each of her bouqcakes is intricately piped by hand, the floral motifs coming together petal by petal. These are then packaged to look like a bunch of flowers in a basket, which is then packed within a signature Guldasta box, making it a celebration of unboxing and sharing with your loved ones. There are a number of options on offer for colours and designs, as well as two icing flavours—American buttercream and Swiss meringue.
Prices start at INR 2,500; Place an order here
Artisanal Mithai Pyramids by Meethi by Wok in the Clouds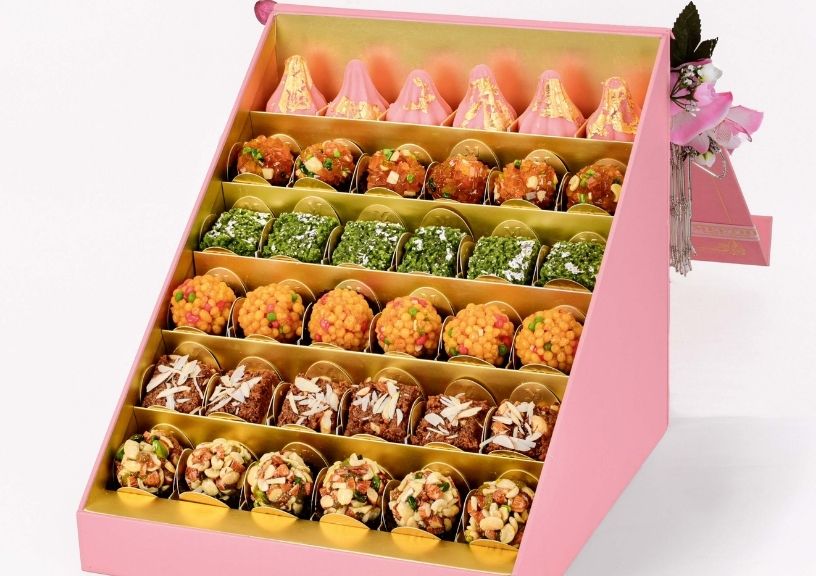 There was a time when no Indian wedding was complete without a round of mithais for dessert. Putting a spin on this custom, Meethi by Wok in the Clouds has elevated authentic Indian sweets to a luxurious experience in the form of their mithai pyramids. "Mithai has been an integral part of all Indian celebrations, including weddings, but as times changed, age-old Indian mithai recipes [have] slowly lost their relevance," says Bobby Gujral, director of Wok in the Clouds. It's this loss of cultural significance that Meethi is trying to address by recreating the charm of these original recipes. The 100 per cent natural and handcrafted Indian mithais are packaged in staggered pyramid boxes so that the contents are presented in all their glory. The pyramids come with an option to customise the packaging, choose the floral arrangements, and pick the mithais of your liking from their wide selection of artisanal milkcakes, barfis, kalakand, lauj, and more.
Prices start at INR 3,500; Place an order here
Bespoke Truffle Boxes by Truffle & Co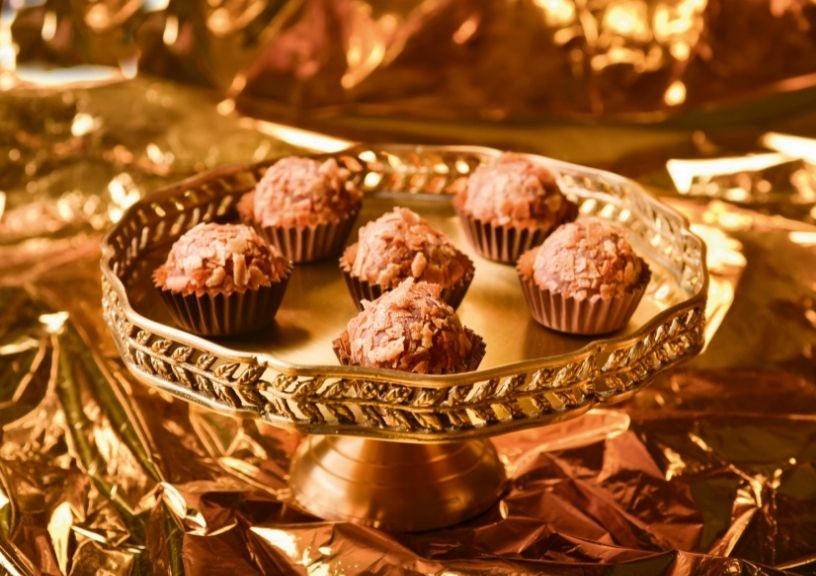 If you love truffles, and want them prepared for your big day exactly as per your taste and preference, then seek out Truffle & Co. Known for their hand-rolled truffles, the brand creates these bite-sized, chocolatey delights without eggs and in a range of distinctive flavours, including Decadent Dark, Bumble Bee, Modagor, Cappuccino, Autumn, Champagne, and more. For weddings, they offer specialised bespoke services, wherein a Truffle & Co representative meets up with the couple in advance to compile a list of their likes and dislikes. A unique flavour, specific to the couple is then created, which is meant for them and them alone, never to be replicated ever again. "Each wedding gets its own set of truffles specifically made to fit the theme. Also, we strive to create boxes that evoke the couple's fondest memories together," says chef and co-founder Vidushi Sharma. The truffles are handcrafted from start to finish with premium-quality ingredients from around the world, such as French cream and Belgian chocolates, thanks to Sharma's love for travel.
Prices start at INR 1,000; Place an order here
Fusion Sweets by Bombay Sweet Shop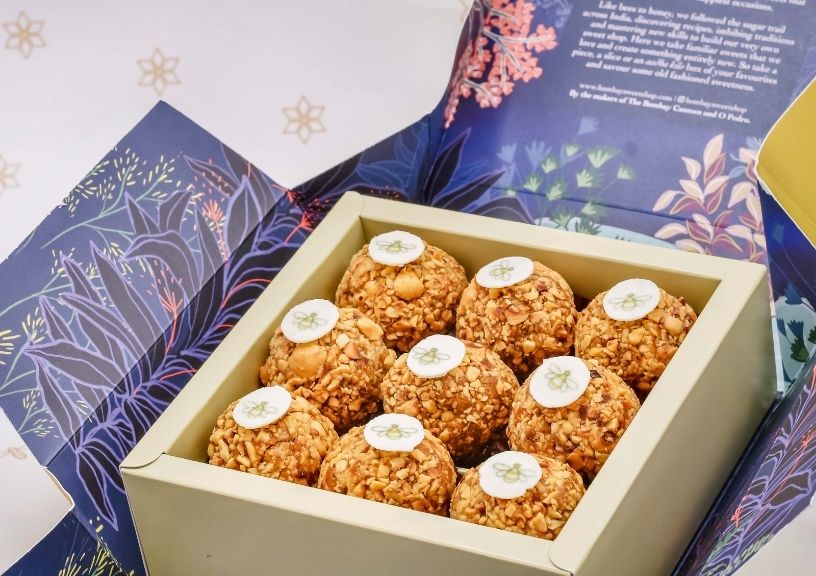 Make your wedding a remarkable affair by opting for an assortment of fusion sweets from the famed Bombay Sweet Shop. Think Coconut Caramel Patissa Bar, Ferraro Rocker Besan Laddoo, Dulce De Leche Peda, Aam Papad Lollipops, and more. A venture of Hunger Inc, the Bombay Sweet Shop imaginatively reinterprets a gamut of traditional Indian sweets in a contemporary and fun format. "We take what's known and stir it with something surprising to give you a sweet treat that you'll love," says Sameer Seth, partner at Hunger Inc Hospitality. "For instance, Kaju Katli is a much-loved mithai that is a part of many celebrations. We recreated the iconic sweet as a bite-sized bonbon, with a decadent layer of chocolate to give you our Kaju Marzipan Bonbons. The thought has always been to make mithais desirable desserts again."
Prices start at INR 50 per piece; Place an order here
Traditional Nankhatais by Lost Roots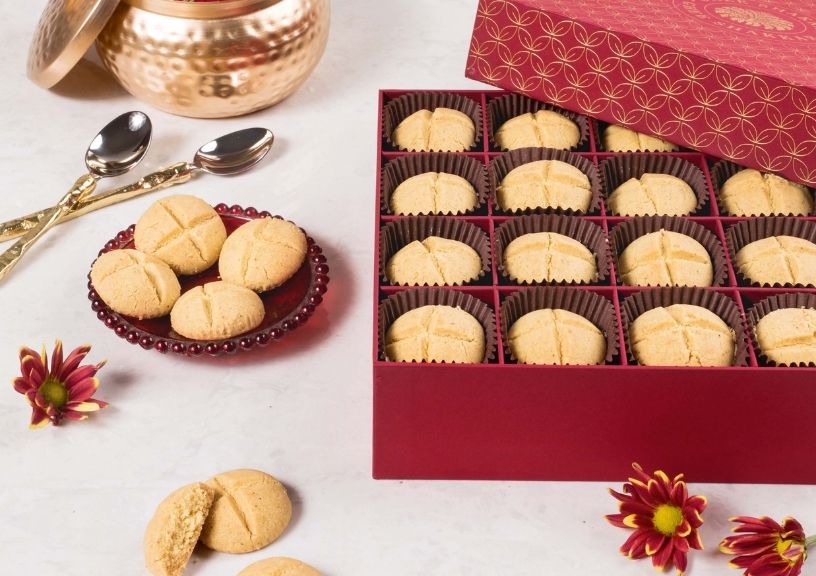 This traditional Indian cookie, crispy on the outside and soft on the inside, found in glass jars at every corner tea shop, may seem like an odd inclusion, until you see how the Delhi-based Lost Roots has elevated it to gourmet status. Specialising in recreating the exact taste and texture of the original nankhatai, the brand offers a wide selection of shapes, flavours, and colours to fit every occasion, such as coffee, elaichi (cardamom), paan, rose, oats, and jaggery. "Our nankhatais are made fresh for each order and handcrafted by some of the most skilful halwais (confectioners). They are prepared in pure desi ghee with premium ingredients," says founder Nishant Goel. "We also offer customised boxes to add a hint of elegance to the nankhatais." These Indian cookies are certain to not only add a touch of tradition to your menu, but also evoke a sense of nostalgia in your guests.
Prices start at INR 400 for a box of four; Place an order here
Boozy Ice-Cream Tubs by Spirited Swirrls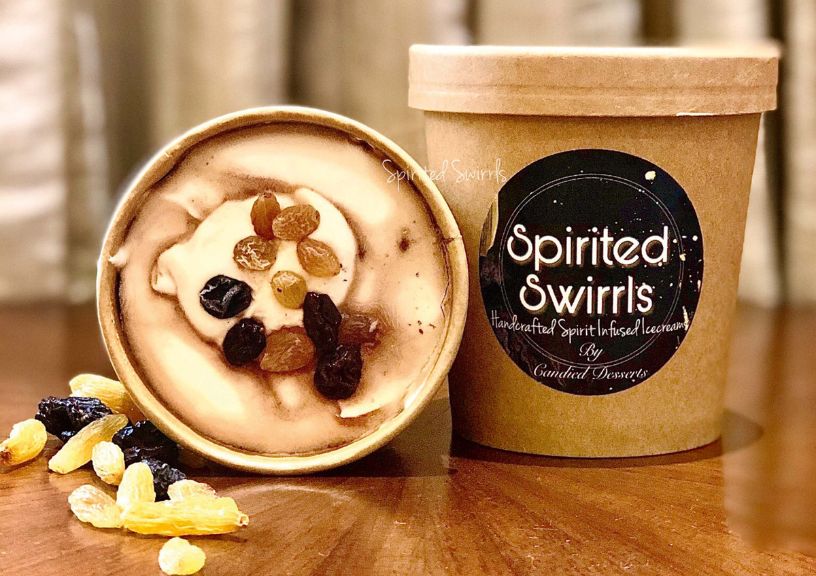 Perfect for an intimate wedding hosting a primarily adult attendance of friends and family, these ice-cream tubs from Delhi-based Spirited Swirrls come infused with premium liqueurs and spirits. Brainchild of home-baker Jaspreet Kaur Aulakh, the boozy ice-cream tubs are completely vegetarian, eggless, and preservative-free. Made to order, they come in seven flavours, such as Kahlua Coffee, Rum N Raisin, Whiskey Caramel, and Tiramisu, as well as vegan ones like Oreos N Rum, Whiskey Chocolate, and Pina Colada. "Boozy ice cream is still pretty niche as a dessert, and it's even rarer to find one at a wedding. So, for those looking to do something totally out of the ordinary, these can be a great dessert alternative to a regular wedding cake," says Aulakh. Add to that the drama of cool smoke created by dry ice in which they are presented, and you'll have guests leaving in high spirits, literally.
Prices start at INR 500; Place an order here
Macaron Towers by Miam Patisserie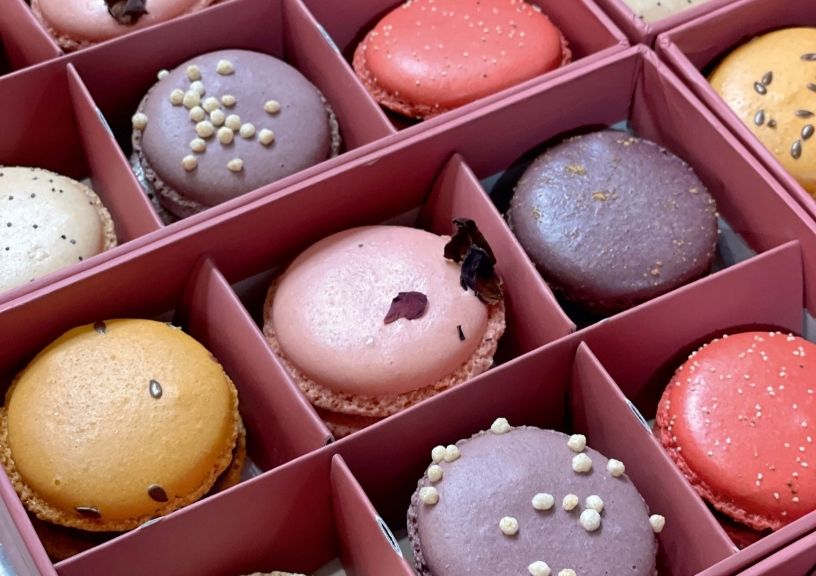 Macarons have been finding their way into upscale Indian weddings for quite some time now, whether as accompaniments for tea or as an after-dessert course. Lately though, they've evolved to occupy centre stage on their own as macaron towers. Started by the Le Cordon Bleu-trained chef Bani Nanda in 2015, Miam Patisserie does an exclusive selection of French pastries, viennoiseries, and cakes made with authentic French technique and precision, using natural and seasonal ingredients. Their macarons come in an assortment of flavours, such as Belgian dark chocolate, salted caramel, raspberry, coffee, blueberry cheesecake, and more. Nanda says, "Large macaron towers are becoming exceedingly popular at weddings, for they not only look beautiful, but are also easy to pick and eat, as well as conveniently replenish throughout the event."
Prices start at INR 900; Place an order here
Madeleine Platters by Brownsalt Bakery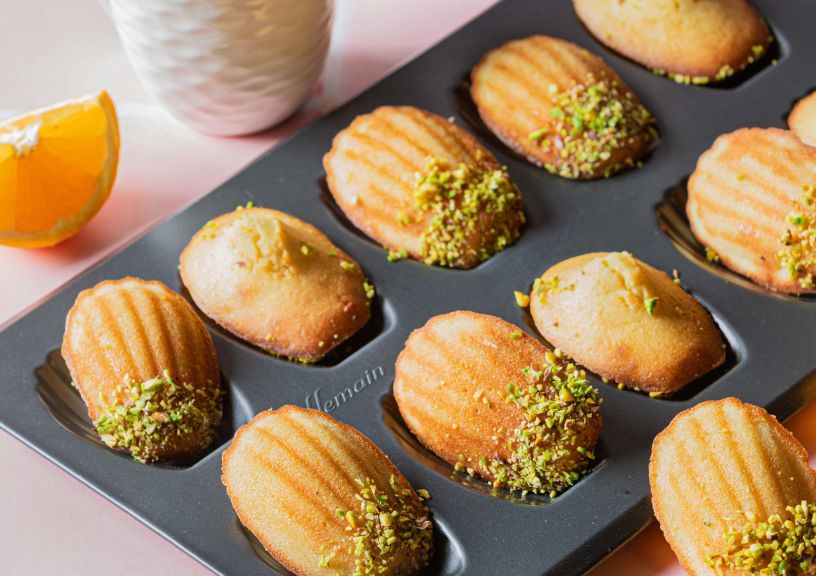 A French classic that is often eaten hot with coffee, madeleines are soft, mini-sponge cakes, with a distinctive shell shape that can be infused with a variety of flavours and coated with white or dark chocolate to elevate the look. "You can make a pretty tower or platter with chocolate-coated madeleines as an alternative to a wedding cake. It'd be a perfect replacement as guests can pick up individual pieces and mix and match the flavours, so there's a bit of a surprise element, too," says Divya Advani, founder of Brownsalt Bakery that does a mean selection of such madeleines. The Mumbai-based online bakery takes traditional healthy ingredients and lends them a modern interpretation in the form of granolas, cookie cakes, brownies, etc. The madeleines come in various flavours, such as orange and honey with a pistachio crust, nutty brown butter, matcha, lemon, and many more.
Prices start at INR 390; Place an order here
Assorted Baklavas by The Baklava Box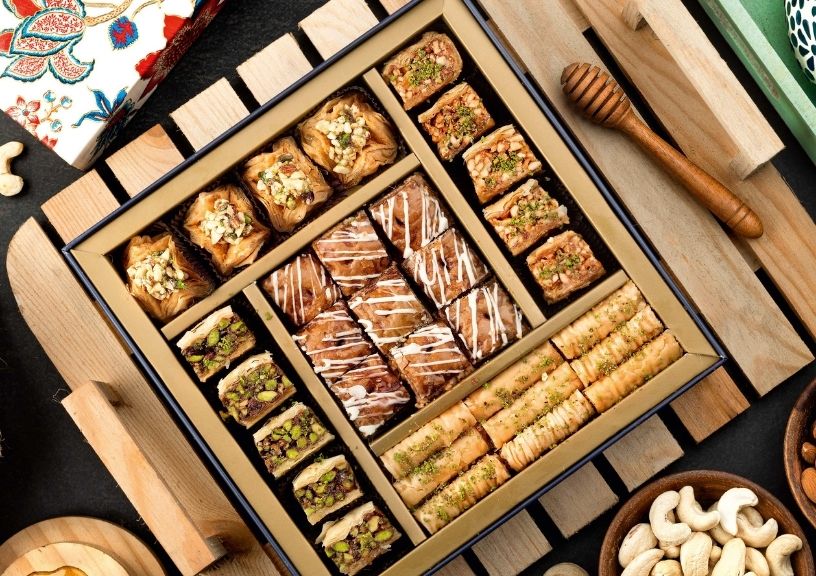 For a taste of the Mediterranean, swap your cake stand for a beautifully laid out platter of assorted baklavas from The Baklava Box. Originating in Turkey and available throughout the Arabian landscape, this layered dessert of filo pastry filled with chopped nuts and sweetened with honey or syrup makes for a lusciously decadent alternative to the regular wedding cake. "The exuberance associated with weddings in India is something that is often celebrated with food. Our baklavas fit in perfectly with that thought, as they are premium, 100 per cent vegetarian, and come packaged in gourmet boxes with nuts, dates, and various other customisations," says Vatsal Agarwal, founder of the Kolkata-based gourmet sweets company. The Baklava Box offers many variants of baklavas, such as almond tart, cashew square, midye, mixed tart, pistachio square, and pyramid to name a few. Besides baklavas, they also do flavoured dates, kunafa, and Indian-fusion sweets.
Prices start at INR 980; Place an order here
Indian Mithai Cakes by Amintiri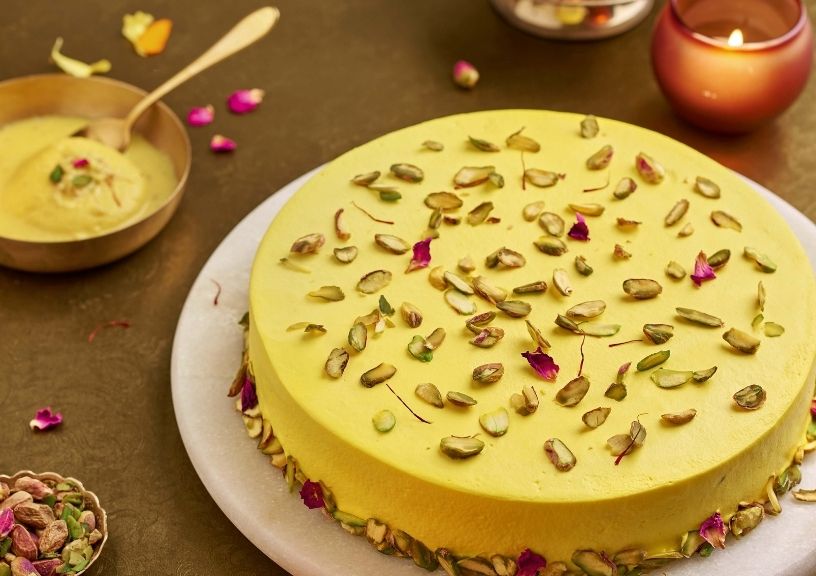 Have an undying love for syrup-soaked gulab jamuns or delicate rasmalais floating in a saffron-milk bath? But also want to experience the celebratory ritual of cutting a cake together for the very first time? Why settle for either when you can have the best of both in one delicious ensemble? The Bengaluru-based Amintiri offers just that with their Saffron Rasmalai Cake and Gulab Jamun Cake. "Initially released as a limited-edition offering during Diwali to pay ode to our favourite Indian sweets, these two cakes soon rocketed to the top of our bestseller charts," says co-founder Priyanka Bhojwani. The unique presentation of two popular Indian sweets as cakes makes them perfect for not just festivals, but for weddings, too. Besides decadent cakes in a variety of classic, as well as innovative flavours, they also offer cake loaves with a shelf life of up to a week.
Prices start at INR 860; Place an order here
Related: Mapping India's Wedding Traditions Through Its Culinary Offerings