Chef Vicky Ratnani Bites Into The Details Of His Upcoming Cooking Class On Airbnb Bollywood Insiders
Peppered with spunk and food expertise in equal proportions, Chef Vicky Ratnani is no stranger to the culinary world. From satiating hungry tummies worldwide to being a favourite among India's biggest celebrities, there's no un-devoured dish that the Mumbai-born chef has curated. Ahead of the new Airbnb Bollywood Insiders—where chef Vicky Ratnani will cook some of the most indulgent cheat meals favoured by Bollywood stars—the award-winning gourmand gives us a sneak-peek into the menu, the lessons, and his signature humour. By Bayar Jain
T+L India: Tell us about your association with Airbnb Bollywood Insiders.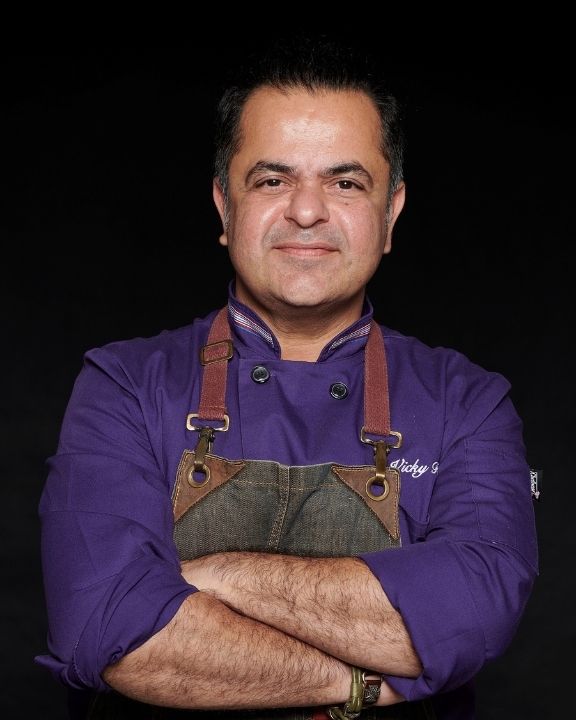 Chef Vicky Ratnani: When Airbnb approached me to do something with them, I was quite excited. I think they have been game-changers in the world of travel. A lot of people don't choose hotels; they choose houses. And I think Airbnb has absolutely gotten [that] bang on! They can really pinpoint your choice of stay wherever you go—Mumbai, Goa, Kerala or even in Bali and New York. That's one of the reasons I liked [the idea of] working with them. Secondly, [I like] the kind of reach they have for all kinds of people.
The thing about Bollywood is that everyone wants to know about Bollywood; it's very aspirational. Since I've been around [in the industry], cooked for most of them [actors]—they've been eating at my restaurant for the last 15-16 years—and I know them pretty well, I thought this would be a great platform to share the kind of recipes I've cooked for them, share anecdotes and dirty stories (no, I'm only kidding; there are no dirty stories!). I think this is the perfect platform for an amazing story.
T+L India: What are some dishes participants can learn to cook during the online session?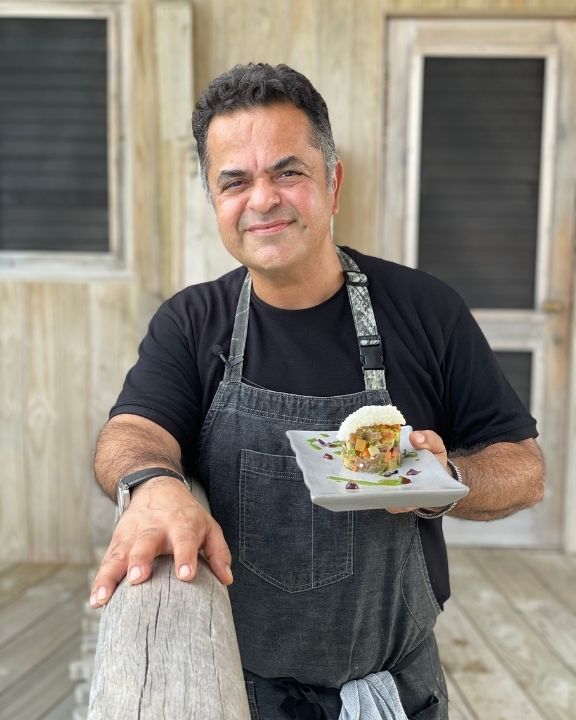 Chef Vicky Ratnani: We're going to be doing a vegetarian dish and a non-vegetarian one. For vegetarian, I'm doing a very nice pumpkin and wild mushroom risotto, which I've cooked for Priyanka Chopra Jonas, Shahid Kapoor, and quite a few people in the restaurant. And then I'm doing a Sindhi mutton curry—which is a fabulous recipe—with Bhuga chawal (rice), which is also a classic Sindhi rice dish. Farhan [Akhtar] has eaten it quite a few times; Malaika Arora orders it all the time. I've also been cooking this [dish] out of my kitchen in Mumbai, The Speakeasy Kitchen in Bandra.
These are really good recipes and they can be recreated any time. Whoever signs up for the online experience is going to get a prep list, so they can keep a few things ready. It's also going to be a lot about learning to be a bit more organised in the kitchen…and it's no rocket science!
T+L India: Do you stay at Airbnbs while travelling?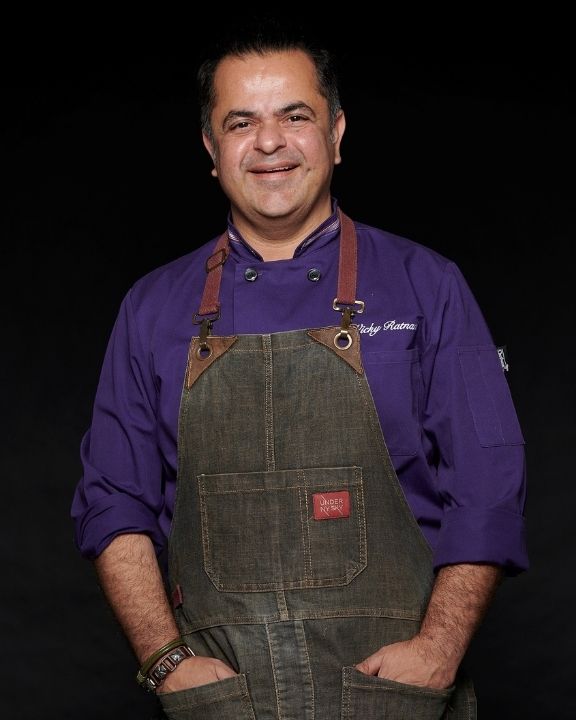 Chef Vicky Ratnani: I know friends who use it all the time but I haven't used it yet. I might be going to New York soon, so I'm already looking at places. It's a no brainer for me.
T+L India: What do you hope to find at the Airbnb in New York?
Chef Vicky Ratnani: A cute, small kitchen, a nice view, and a very comfortable bed.
T+L India: What does travel mean to you?
Chef Vicky Ratnani: Travel means everything to me! I am a product or outcome of my travels.
T+L India: How do you add elements of travelling to your dishes?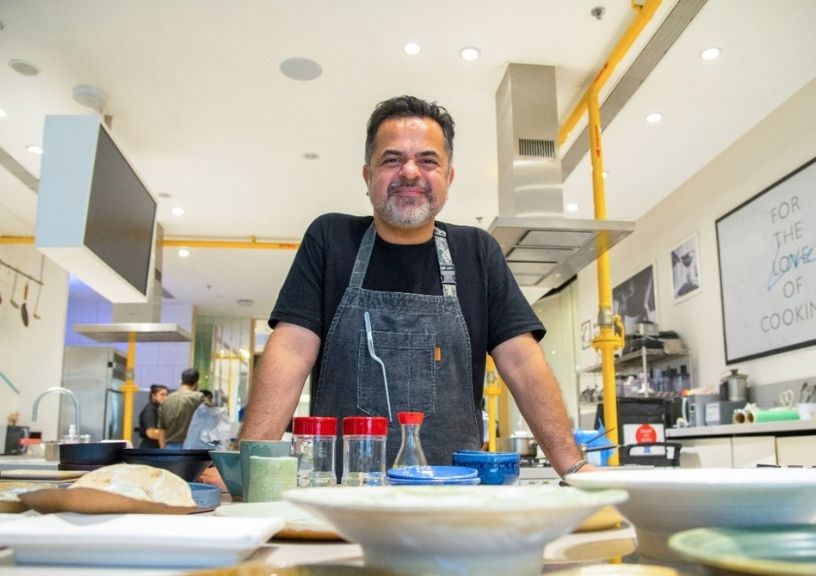 Chef Vicky Ratnani: As you travel, you try out different ingredients, like different kinds of mushrooms, and cook with different chefs. Risotto, for instance, is the quintessential khichdi for the world. It is considered a luxury and a basic dish as well. It's very versatile; you can make different kinds of it.
Secondly, with the Bugha rice and mutton curry that I'm doing, it's like travelling to someone's home or my kitchen or even my mother's, and learning about Sindhi culture along with stories about Sindhi people. I think it's all very culture-dominated!
T+L India: Top kitchen hacks to make daily cooking easier?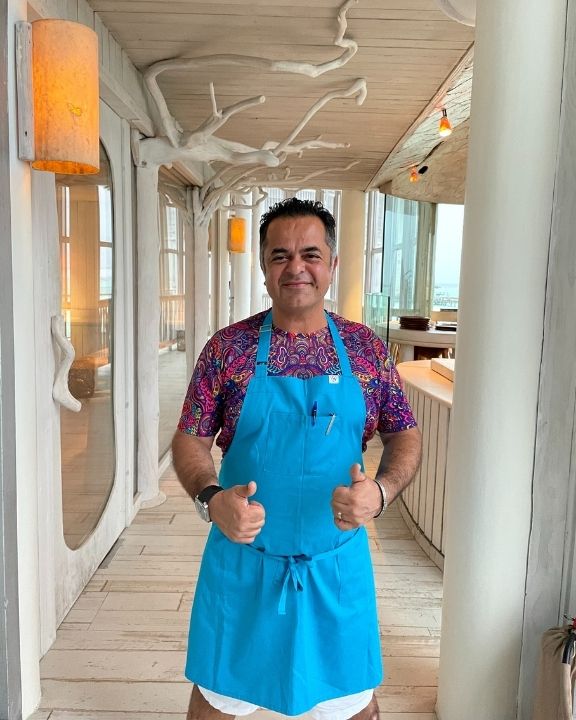 Chef Vicky Ratnani: First decide on what you're cooking. There are two things: first, the premise that you choose to cook something now and that depends upon all that you have at home; and second, if you're going to cook tomorrow, you'll have enough time to buy the ingredients. So, I think planning and making notes is a very big part of cooking.
Next, document what you're cooking. That way, it's your own little, personal black book or writing pad that you can pass on or refer to when someone asks "wow, yeh kaise banaaya? (how did you make this?)" In this demo as well, I want to encourage people to invest in a small digital scale—which costs INR 200-300, and can be used for other reasons as well. Make that andaaza (estimate) into a sure-shot thing and move on!
T+L India: What does Chef Vicky Ratnani like to binge on during cheat days?
Chef Vicky Ratnani: You should ask me what is Vicky Ratnani eating once in a while when he's eating out! For me, there's no 'cheat day'. When you cook fancy meals and you're in the food trade, you're already tasting things all the time. But for me, a cheat meal would definitely be a slow-cooked, mutton nihari or a double pork chop.
T+L India: What is the most versatile ingredient?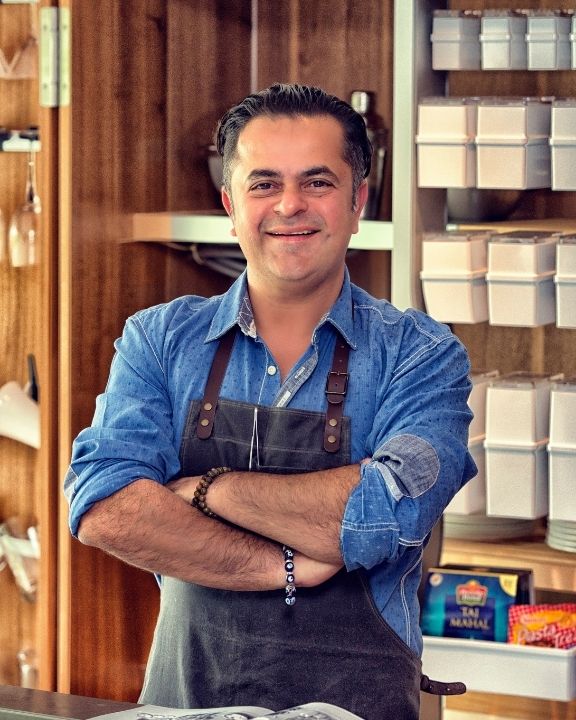 Chef Vicky Ratnani: Every ingredient is versatile and can be used in different ways. You can use ginger to make Indian food or even Pan Asian. I think vegetable oil can be [considered] versatile since you can use it throughout. Or even butter, makhan, malai.  I'm very smart. I use butter in my dishes but I don't eat it!
T+L India: In a sentence, how would you describe your upcoming Airbnb Online Experience?
Chef Vicky Ratnani: Fascinating, informative, cutting-edge, progressive, and achievable.
Rapid-fire Questions with the Chef!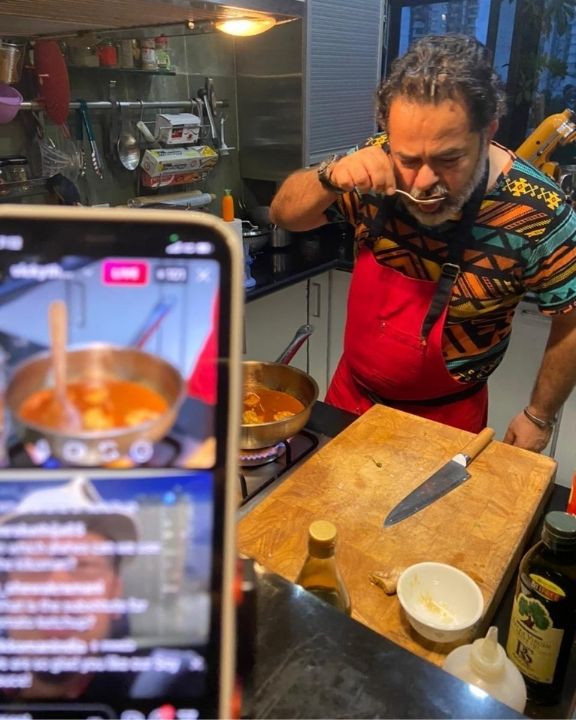 Wackiest dish you've ever eaten: There's nothing weird about food. Different cultures have different foods. However, the weirdest thing I've ever eaten is a Thai Green Curry, but I used alligator tail.
Your comfort food: Sindhi curry and rice.
Favourite travel companion: Myself!
Bucket list destinations— in India, and abroad: In India: Sikkim; abroad: Israel.
Favourite restaurant(s) in India: Indian Accent, Masque, Dum-Pukht, Kareem's, Kulcha Land in Amritsar, eating fresh seafood on the streets of Mahabalipuram. 
Three people (dead or alive) you'd love to cook a meal for: The late Anthony Boudin, my (late) mother, and my best paying customer!
An Indian dish you feel that deserves more global recognition: Kerala duck roast with laccha paratha.
To book Airbnb's Bollywood Insiders experience with Chef Vicky Ratnani, click here. For all other Bollywood Insiders experiences, click here. 
Related: Airbnb Kicks Off 'Bollywood Insiders' & We Have All The Exclusive Scoop!