A little more than two years ago, I moved to Mexico City more or less sight unseen, taking it on good faith that this urban giant could find space for one more body among the 21 million that already called its metro area home. I came, like many foreigners before me, with vague ideas about its vibrant food and art scenes; its crooked glamour and effortless cool; its rich colonial and modern architectural landscape. I expected to find moments of enervating chaos and sometimes choking smog. But I was rejuvenated by gracious parks and sublime weather, by crisp autumn mornings and springlike afternoons, by spasms of rain and hail and thunder that gave way, just in time, to marigold sunsets blooming across the horizon. Mexico City, it seems, is able to turn a different face to each and every one of its inhabitants. By Michael Snyder
That's because, in the past five centuries, Mexico City has become a master of transformation. Flung wide across a seismic, high-altitude plateau, North America's largest city has survived colonial conquest, years-long floods, a bloody war of independence, a bloodier revolution, and, in 1985, a catastrophic earthquake that killed more than 9,000 and decimated much of the historic central borough of Cuauhtémoc. Thirty-two years later to the day, in 2017, another quake shook the city to its core, bringing down over 40 buildings and damaging many more. Within weeks, the city had bounced back from that, too. Chilangos, as residents are known, continue to deal with shoddy governance, shoddy infrastructure, and fluctuating levels of security. Given the choice, many would just as soon return to the villages they left a generation or three before. But many more — myself included — wouldn't live anywhere else.
No one trip is enough to unlock the city's many wonders. For a first-time visitor, sticking to the leafy neighbourhoods in and around the Delegación Cuauhtémoc offers an ideal introduction: a walkable, manageable microcosm of the city's wild, sophisticated whole. From the cockeyed grandeur of the Centro Histórico to the discreet galleries of Santa María la Ribera and the glamorous cafés of Condesa, these are the eight districts every visitor should get to know.
Centro Histórico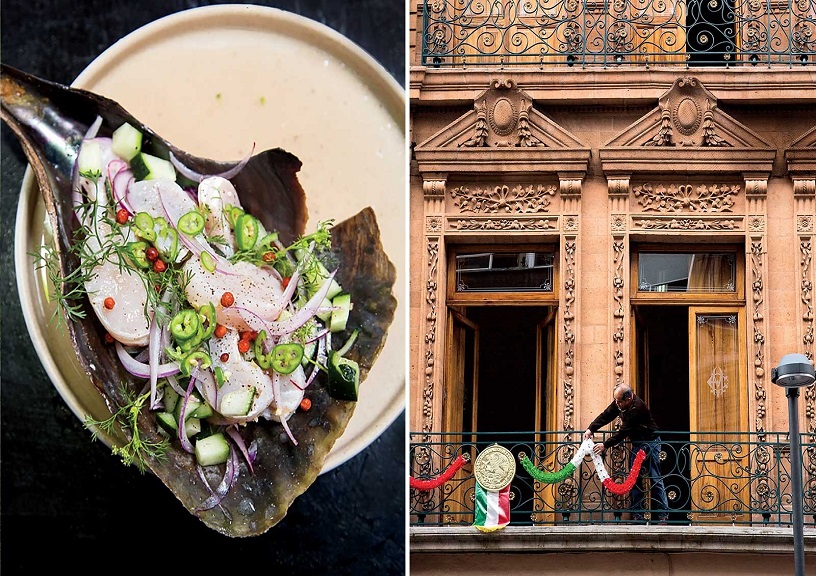 Late one Sunday morning, I set out from my home on the far side of the Zócalo, Mexico City's spectacular central plaza, to the Mercado San Juan. It wasn't a particularly long walk, but, like most routes through the Centro Histórico, it encompassed many pasts, many presents, and many possible futures. Here you'll find opulent colonial palaces, crooked Baroque churches, murals by Diego Rivera at the Palacio Nacional and the Secretariat of Public Education headquarters, and the magnificent ruins of the Templo Mayor, the axis of the Aztec Empire's religious and political universe.
Until the late 1800s, the Centro was Mexico City. Then, from the turn of the century onward, modernity-obsessed elites began abandoning their ancestral homes and moving to the newly created suburbs in the west and south. After the 1985 earthquake, the Centro was all but abandoned. It remained an important place of protest and celebration, but it was not a place you lingered.
Entering the open doorway of the Mercado San Juan, I passed vendors selling rambutans and mangoes, plastic boxes of microgreens, and giant clams from Baja. But I hadn't come here to shop (for that I go to Mercado la Merced, the bigger, crazier, more beautiful wholesale market on my side of the Centro). Instead, I had come to eat at Don Vergas, an eight-seat market stall that, for the past year, has been turning out some of the best seafood in Mexico City.
Chef Luis Valle, who hails from the northwestern coastal state of Sinaloa, had opened shop only an hour earlier, but already a rowdy line had filled the aisle, singing along to the banda music playing through a loudspeaker perched precariously over the tiny kitchen. "How many crab tostadas?" Valle shouted over the music. Hands shot up: 15 orders.
I slipped behind the bar to help squeeze a few limes and hang out with Valle, who makes great company, no matter how busy he is. I asked how many people he would cook for today. "About 400," he said. I asked how he coped. "I don't!" he laughed, then turned back to the crowd, shouting: "How many scallops?"
Even a decade ago, you'd have been hard-pressed to find such excitement surrounding a restaurant in this part of town. But in the past year or so, pop-up parties have begun to appear on rooftops, in basements, and at run-down cantinas like the bizarre and beautiful La Faena, decorated with dusty shadow boxes of toreadors' costumes. Edgy art galleries have appeared in former office buildings. Bósforo, still the top place in town for mezcal more than 10 years after it opened, draws crowds on weekends, while the nameless restaurant next door serves impeccable Oaxacan food by flickering candlelight.
But despite the fact that a new, younger generation is now gravitating to the Centro, it's still a place that belongs to everyone. Activists stage regular protests in the Zócalo. Residents from around the city come to shop at stores selling everything from spices to light fixtures and giant handmade candles decorated in lacy wax flowers. Government workers stop in at century-old cantinas for an afternoon beer (try La Ópera for gilded old-world opulence, or Salón Tenampa for some of the city's best tequila). Even the exorbitantly expensive Mercado San Juan, where Luis Valle slings his seafood, has a raucous weekend party. Nowhere in this immense, stratified city is more democratic or more beautiful.
Roma and Condesa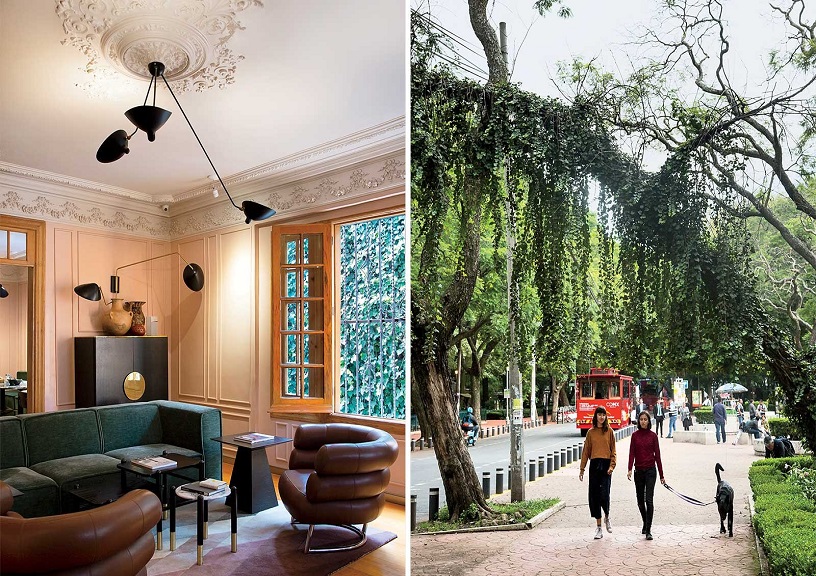 At the northern edge of Colonia Roma, a trickle of young, stylish people wandered in and out of a heavy glass door that swung open onto Calle Puebla. They followed a bend of stairs past tall white gallery walls and out onto a sunny roof terrace surrounded by treetops. Monserrat Castera, beer in hand, led me from the open patio into a small, glass-walled room at one corner to show me around the latest edition of her pop-up shop, Momo Room — one of a growing number of nomadic retail spaces now at the vanguard of Mexico's fashion scene.
This iteration, she explained, was inspired by Juan Rulfo, the mid-20th-century writer whose works are widely considered to be among the finest ever written in Mexico. Rulfo set two of his most important books in a fictional town in the small coastal state of Colima. Among objects selected from local designers, Castera had scattered photographs of Colima, burlap sacks of the state's famous sea salt, and handwoven straw hats. There were also playful sunglasses from French-Mexican collective Stromboli Associates; handmade box bags in wood and leather by Aurelia, a brand run by three sisters from Guadalajara; and embroidered linen kimonos dyed with indigo and cochineal from local label Korimi Kids. None of these designers had a brick-and-mortar shop. After all, in a city obsessed with collaboration, and replete with spectacular spaces ideal for short-term group exhibitions, what would be the point?
When Mexico City was named the World Design Capital for 2018, many ascribed the distinction to an aesthetic that brings Mexico's disparate creative traditions — from textiles and earthenware to the great Modernist boom of the 1950s — into conversation with one another. Though that sensibility has existed in Mexico for generations, it has become newly fashionable in Roma and Condesa, two of the capital's most design-forward neighbourhoods. You can witness it at stores like quirky clothing boutique Hi-Bye, at the shops lining the uneven sidewalks of the beautiful Calle Colima.
After the 1985 earthquake, many residents fled Roma, and it was well over a decade before artists and designers began moving back into its gracefully dilapidated Beaux-Arts mansions. Condesa, which was the city's most cosmopolitan neighbourhood during the 1930s and 40s, experienced a shorter decline, having rebounded by the mid-90s. With its pretty Art Deco and Mission-style apartments and even prettier residents, Condesa is today the grande dame of Mexico City colonias — stylish, elegant, but never trying too hard. Condesa and Roma were also among the areas most heavily damaged in the 2017 earthquake, but this time both returned to life with remarkable speed. Were it not for a handful of empty buildings dotting the area, deep cracks running like vines through their white plaster exteriors, you might not know that anything had happened here at all.
And while the dialogue between tradition and innovation found its way into restaurant kitchens at least a decade ago in places like Enrique Olvera's Pujol, in the swanky Polanco area, Roma and Condesa have taken the lead in translating it into more casual — though no less ambitious — settings. At the year-old restaurant Meroma, wife-and-husband team Mercedes Bernal and Rodney Cusic offer some of the neighbourhoods' most refined cooking, taking inspiration from local ingredients, rather than traditional dishes, to create a subtly eclectic menu. And at El Parnita, a family-run taco joint that got hip as the district did, young diners line up for a lunch of fish tacos and craft beer.
And at the chaotic, nameless open kitchen next door, a young chef named Jesús Salas Tornés creates consistently delicious, interesting dishes that bring the flavours, techniques, and oddball informality of the countryside straight to the heart of the city.
Santa María La Ribera and San Rafael
Not long after I moved to Mexico City, I climbed a flight of terrazzo stairs leading to a buzzing, dimly lit terrace in Santa María la Ribera, an otherwise quiet residential neighbourhood northwest of the Centro. Glamorous in its turn-of-the-20th-century heyday, Santa María, the first planned suburb of the Centro, was, by the 1950s, overshadowed by neighbourhoods like Roma and Condesa. On that chilly evening, however, it was hard to imagine anywhere more elegant.
In the 20 years since Zonamaco, the city's mammoth weeklong art fair, launched, Mexico City has become an essential stop for regulars on the international art circuit and young artists looking to create and show work in a dynamic, affordable environment. A few nights before the gathering on the terrace, Art Week had started — an annual event that includes Zonamaco and its daring younger sibling, the Material Art Fair. Around me was a crowd of local gallerists, artists from Mexico and abroad, and assorted global movers and shakers. They'd come to celebrate the recent opening of the Mexico City outpost of Casa Wabi, the Tadao Ando–designed artists' retreat in Oaxaca, on Mexico's southern coast. Mezcal flowed freely as fairy lights twinkled along with the neon sign for a cheap hotel across the street.
Between them, Santa María and the adjacent area of San Rafael are home to more than a dozen galleries and art spaces. Some represent internationally recognised artists, but most are like Casa Wabi: alternative, informal spaces for young Mexican artists. On a recent morning, I stopped by the gallery to see an exhibition of earthenware pieces by a Swiss resident at the Oaxaca centre, displayed alongside Midcentury Modern furniture sold by the design shop Decada. The small space on the ground floor showed work by a photographer from the northern state of Sonora — endless desert horizons punctuated by fragments of industrial architecture. "Mexico City is a nursery for the rest of the country," said Carla Sodi, director of the Casa Wabi Foundation, as we sat one morning on a balcony overlooking an ordinary street that was waking to the working day. "Eventually, these artists will go back home and plant those seeds."
Santa María and San Rafael have always been low-key repositories for Mexican design. Around Santa María's gracious alameda, or central park, families move up and down the marble stairs of the gorgeously old-fashioned Geology Museum, built in 1910, while old couples dance beneath the flamboyant glass dome of the Moorish Kiosk, erected here in the same year. The Art Nouveau towers of the Museo Universitario del Chopo, an important centre for contemporary art, soar over a street that, in the early 1980s, was the locus for the city's punk and goth scenes. The ruins of Cine Opera, a now-defunct Art Deco cinema, stand like a sentinel at San Rafael's northern edge. And the abstract minimalism of the Museo Experimental El Eco, built in the 1950s by the celebrated artist and designer Mathias Goeritz, brackets San Rafael's south.
Yet despite all these monuments, both neighbourhoods remain typical middle-class barrios. Santa María's neighbourhood tamale shop, Cintli, is my favourite in all of Mexico City. Beer and tequila abound at the local cantina Salón París, and La Polar in San Rafael serves steaming bowls of birria, a regional beef stew, accompanied by raucous mariachi bands playing late into the night.
Juarez & Colonia Cuauhtémoc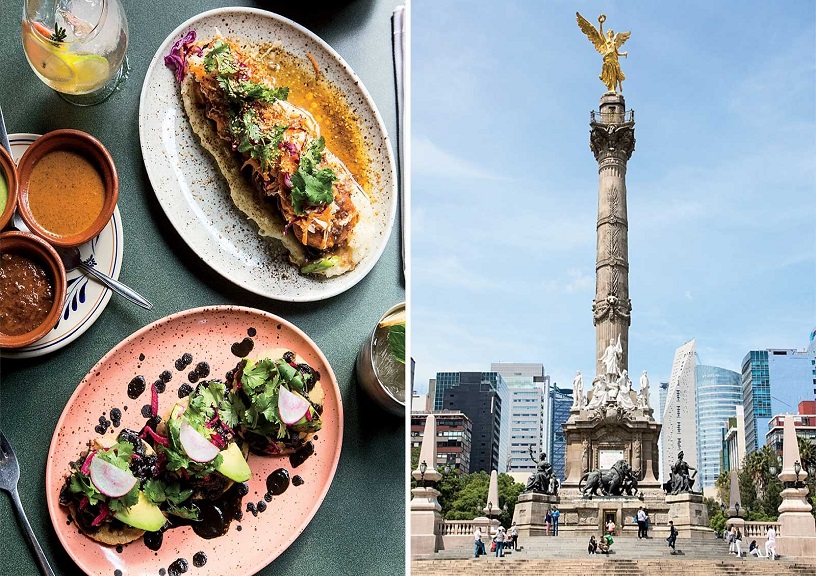 The glass-and-steel towers lining Mexico City's grand ceremonial avenue, Paseo de la Reforma, burst from the low-slung concrete grid-like volcanic peaks, monuments to globalist prosperity erupting from the city's ancient lake bed. Reforma connects the Centro to the Bosque de Chapultepec, the city's biggest park, and the trio of art institutions clustered at its northern end — the Museum of Anthropology, the Museum of Modern Art, and the Tamayo Museum for contemporary art.
For much of the last century, the neighbourhoods that flank Reforma — Colonia Cuauhtémoc to the north and Juarez to the south — were the centre of the city's international population. Wealthy Mexican families, foreigners, and diplomats were drawn here by embassies and banks and streets named for the great rivers and cities of the world they once called home: Ganges, Danubio, and Rhin; Londres, Hamburgo, and Berlín. From their development in the early 20th century onward, these areas have expressed Mexico's global ambitions. They still do.
Ryo Kan, a guesthouse that opened in April in Cuauhtémoc, takes its neighbourhood's global spirit to heart, bringing the intimate calm of the traditional Japanese inns it's named after to the heart of the Mexican capital. While other new boutique hotels in the city revel in Mexico's mid-century elegance, Ryo Kan is tranquil and subdued, compact and efficient, a meditation in pale oak and terrazzo. "Japan and Mexico have a lot in common — our ceramics, our textiles, our uses of natural materials. We wanted to find those parallels," says Regina Galvanduque, the lead architect on the Ryo Kan project.
Ryo Kan is one of the most recent Japanese-inspired businesses to open along Cuauhtémoc's subdued, tree-lined streets. In the past nine years, the Edo Kobayashi restaurant group, run by Edo López, has created a small empire there, with an izakaya and ramen spot called Rokai, a tiny bar called Le Tachinomi Desu serving sake and natural wines, and a listening bar inspired by Tokyo's Ginza Music Bar.
Wander a few minutes south into the Zona Rosa, the historic gay neighbourhood at the centre of Colonia Juarez, and you'll find it hard not to feel transported. Banners for cheap cafés, Korean lunch joints, and neon-lit gay bars obscure the façades of old houses built in an inexplicable (and inexplicably pleasing) hodgepodge of architectural styles from France, Italy, Britain, and Spain.
In the evenings, crowds spill onto the broad pavement of Plaza Washington from the garage-like edifice of Cicatriz, an all-day café run by a sister-brother team of American expats, Scarlett and Jake Lindeman. Most of their customers — who come for coffee and cocktails, natural wines, and fried-chicken sandwiches — wouldn't look out of place in New York, Los Angeles, London, or Paris. That's because many of them hail from just those places: the most recent group of immigrants to call Juarez home.
San Miguel Chapultepec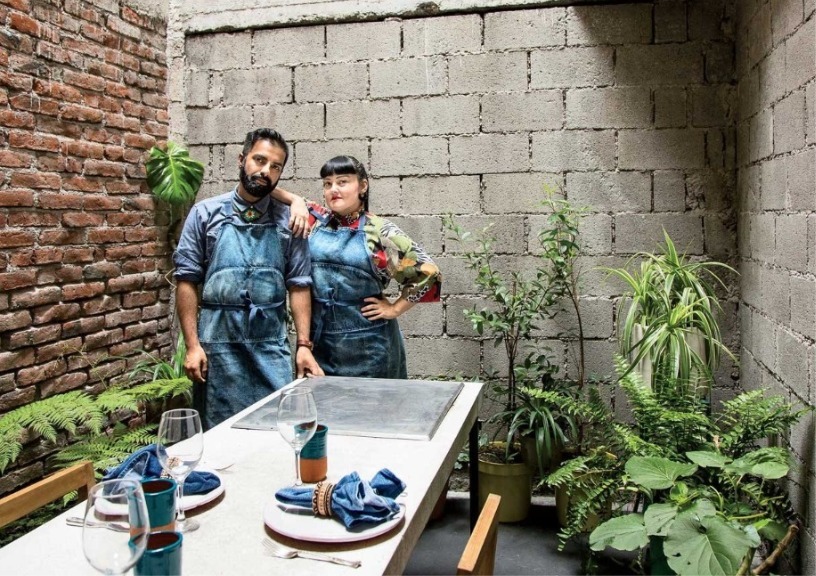 The long communal table that runs down the centre of the restaurant Masala y Maíz had been laid out with bowls of spices — some of them familiar to Mexican palates (cumin, cinnamon, cloves, and black pepper), others (coriander seed, ginger, and star anise) less so. Chefs Norma Listman, originally from the nearby town of Texcoco, and Saqib Keval, born in northern California to an Indian family from East Africa, circulated, greeting guests. Seated at the centre of the table, the restaurant's first artist in residence, Sita Kuratomi Bhaumik, began her talk on the origins of Indian chai. The conversation then segued to the spices in front of us and how some made their way into Mexican kitchens.
Masala y Maíz had opened a few months earlier in the quietly elegant colonia of San Miguel Chapultepec, a triangle of leafy streets that separates Condesa from the Bosque de Chapultepec. Right away, it was a space obsessed with hybridity: an artists' residency, an ambitious full-service restaurant, and a coffee shop serving house-made doughnuts from a window connecting the kitchen to the street. That evening, it was also a workshop for a handful of curious people, an event that was local in its reach, yet cosmopolitan in its vision.
For Listman and Keval, the menu at Masala y Maíz is a reflection of the mestizaje, or cultural mixing, that has defined Mexican culture since the Spanish conquest. Here, huevos rancheros come with South Indian uttapam flatbreads in place of tortillas. Giant prawns are coated in Ethiopian berbere and served with jicama and rose water. Patra de hoja santa, a riff on an Indian snack of spiced chickpea batter, trades the traditional taro leaf for southern Mexico's emblematic herb, hoja santa.
San Miguel was not an obvious choice for this kind of restaurant. Peaceful and residential, the area is best known for its access to the Bosque de Chapultepec, never more than a few blocks away; for the pretty cobblestoned lanes that line its southern side; and for the beloved white-tablecloth cantina, El Mirador de Chapultepec, that has been a favourite among city politicians for decades. It's also notable for its proximity to several essential design institutions, including the influential gallery Kurimanzutto, which turns 23 this year. Casa Luis Barragán, the former home of Mexico's Pritzker-winning 20th-century architectural master Luis Barragán, lies just beyond the colonia's western edge, and the renowned Archivo de Diseño y Arquitectura exhibition space sits right next door to Barragán's house.
San Miguel is a perfect place for peaceful walks past magnificent private homes secreted away behind humble Neocolonial façades, for whiling away hours in quiet corners of the Bosque de Chapultepec, or for sipping hibiscus mead brewed right here in the city, a speciality at Masala y Maíz. It's also a perfect place to reflect on something Chilangos have known for ages: that Mexico City isn't just the capital of the Spanish-speaking world, or the biggest city in North America. A city of immigrants and innovation, built and rebuilt with a zealous lust for the new, blasted by tragedy, sustained by passion and pragmatism — Ciudad de México is, and always has been, the great city of the Americas.
Plan a Perfect Stay in Mexico City
For a manageable microcosm of this vast metropolis, stick to these parts of the historic Cuauhtémoc borough. Pick one as your base, and spend your days exploring the others.
Getting Around
Despite its size, Mexico City is relatively easy to navigate, particularly if you stay within the central neighbourhoods. Comfortable year-round temperatures make it a great city for walking. The Metro is the most efficient way to cover longer distances, though it's best avoided at rush hour. Uber is also a good option here.
Centro Histórico
Hotels
The Downtown Mexico (doubles from USD 230 or INR 17,065), set in a 17th-century palace, has an elegant rooftop bar and pool.
Eat & Drink
Arrive early to avoid the crowds at Don Vergas (Calle Motolinia 32; entrées  USD 7 or INR 519 – USD 32 or INR 2,374), which serves some of the city's best seafood. Since time of reporting, the restaurant has moved from the Mercado San Juan to this new location, also in the Centro Histórico. Dip into a historic cantina like La Ópera (10 Cinco de Mayo), or La Faena (49 Venustiano Carranza) to break up a day of sightseeing. For dinner, stop at the beloved mezcal bar Bósforo (31 Luis Moya), then try the chic, nameless restaurant next door (entrées USD 8 or INR 593 – USD 12 or INR 890).
Activities
Shop for whimsical fashion at Hi-Bye, and pick up a bottle of mezcal at Sabrá Diós (15 Avda. Veracruz), in Condesa. Be sure to keep an eye out for retail pop-ups like Momo Room.
Santa María la Ribera & San Rafael
Hotels
The boutique hotel El Patio 77 (doubles from USD 125 or INR 9,274) makes for a peaceful base in a central but relatively unexplored area.
Eat & Drink
Find the best tamales in the city at Cintli (174 Calle Sabino), a no-frills storefront in Santa María la Ribera. Salón París (152 Jaime Torres Bodet) is a great traditional cantina, while La Polar (birria USD 7 or INR 519) makes superb birria (beef stew).
Activities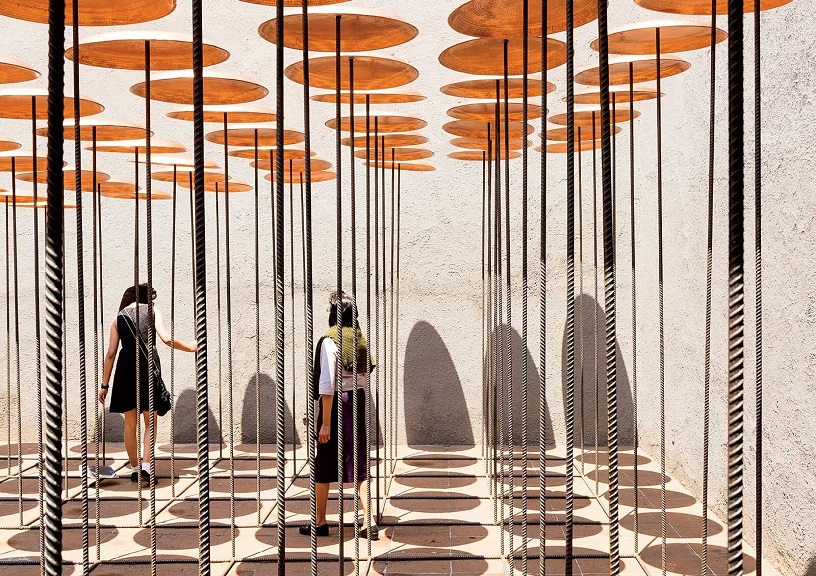 For contemporary art, don't miss Casa Wabi (casawabi.org) and the Museo Experimental El Eco, a masterpiece of mid-century Mexican design.
Juarez & Colonia Cuauhtémoc
Hotels
The newly opened Ryo Kan (doubles from USD 150 or INR 11,129) brings Japanese tranquillity to the city's business district.
Eat & Drink
You'll find some of Mexico City's best international restaurants in these neighbourhoods, from small plates at natural-wine bar Le Tachinomi Desu (small plates USD 5 or INR 370 – USD 8 or INR 593) to a remarkable omakase at Sushi Kyo (set menus from USD 75 or INR 5,564). Salón Ríos (218 Río Lerma; entrées USD 8 or INR 593 – USD 30 or INR 2,225) is a great place for updated Mexican classics, while Cicatriz (entrées USD 3 or INR 222 – USD 6 or INR 445) is ideal for a salad or an evening cocktail.
Activities
The Anthropology Museum has an extraordinary collection of Mesoamerican artefacts. Next door, Museo Tamayo shows modern, contemporary, and folk art, while the Museo de Arte Moderno focuses, as its name suggests, on modern art.
San Miguel Chapultepec
Eat & Drink
The menu at Masala y Maíz (small plates USD 5 or INR 370 – USD 9 or INR 667) explores the commonalities among the cuisines of Mexico, India, and East Africa, while El Mirador de Chapultepec (sharing plates  USD 7 or INR 519 – USD 10 or INR 741) is one of the city's classic cantinas.
Activities
Book well in advance for a tour of Casa Luis Barragán, former home of the Pritzker-winning architect. Nearby, Casa Gilardi, the last house Barragán built before his death, also offers tours by appointment. Next door to the Barragán house is the Archivo de Diseño y Arquitectura, a small exhibition space and a reading room devoted to Mexican design with a beautiful garden in the back. Twenty years after opening, Kurimanzutto, in the neighbourhood's peaceful heart, is still among the most influential galleries in North America.
Related: The Best Time To Visit Mexico For Good Weather And Affordable Prices