Get ready to enjoy immersive experiences with your favourite characters at the Warner Bros. Abu Dhabi Hotel on Yas Island. By Naina Atri
The Warner Bros. Abu Dhabi Hotel, which will open its doors to guests on November 11, 2021, promises unique experiences with beloved stories and characters. Guests will dive deep into the world of film history as they stroll through the lobby or admire the 360-degree city and sea views, alongside their favourite props and costumes from Warner Bros. films and TV shows. 
This story-driven hospitality experience is being brought to life through a partnership between the Hilton's Curio Collection brand, Miral, Abu Dhabi's leading curator of magnetic experiences, and Warner Bros. Located on one of the biggest tourist destinations, Yas Island, the upcoming hotel is right next to the Warner Bros. World, the world's largest indoor theme park.
The quintessential experience begins right as you pull up, as you're greeted by digital screens playing content from Warner Bros.' archives. The iconic Friends' fountain is unmissable, right at the front of the hotel, while the lobby itself has themed columns. The walls of the corridors have been adorned with stunning artwork.
257 rooms tell the stories that we've all come to love over the years.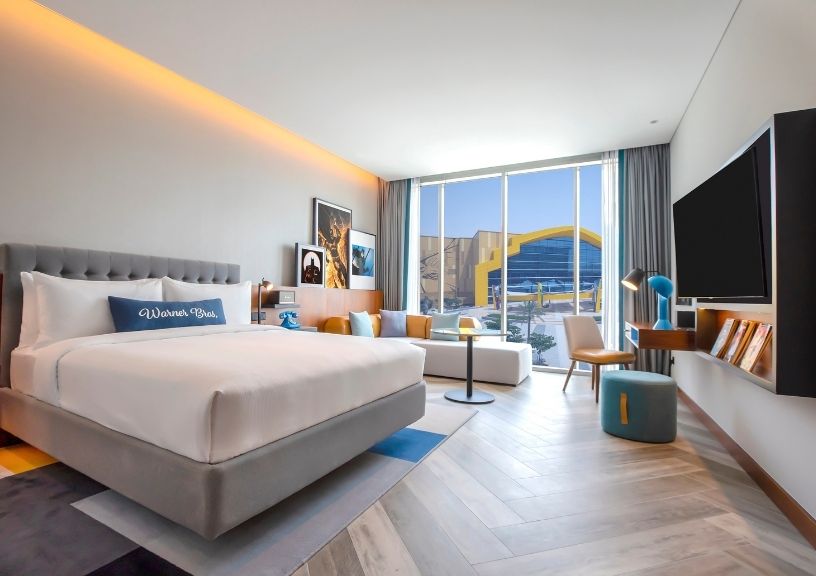 The curated guest-room artwork will be inspired by three themes. The first theme, "From Script to Screen", highlights standout moments from Warner Bros.' movies and shows and documents the journey from the written page to the final shot. The second theme, "Artist Confidential," celebrates a variety of talent in front of and behind the camera in some of their favourite productions. The third theme, "The Vault", features rarely seen images from WB's most memorable archives.
Five dining options offer indulgent meals. Craft Services for a good cup of coffee; Sidekicks to lounge around in with an international menu; The Matinee by the pool; The Director's Club for an elegant ambience; or The Overlook, a fabulous lounge with a relaxing infinity pool and a panorama of the theme park and the sea. You could even up ring up a Looney Tunes-themed room service, which will be served by Bugs Bunny himself.
From a family pool area to a fitness centre and the Warner Bros. Prop Shop — there's a lot to explore. For younger guests, the Kid's Club will offer a vibrant and playful space designed to bring Warner Bros.' characters to life. Some of WB's world-renowned characters, such as Bugs Bunny, Daffy Duck, and others, will participate in entertaining activities throughout the hotel, providing guest memories that will last a lifetime.
The hotel is also a walking distance from Yas Waterworld and a five-minute drive to all other Yas Island unique attractions and experiences.
Related: The World's Highest Infinity Pool Is Coming To Dubai — With 360-Degree Views Of The City