It's one of America's most iconic sites, yet few visitors ever descend into the mile-deep heart of the Grand Canyon. On an intense three-day hike, our contributor heads below the rim of this extraordinary natural wonder to reconnect with her brother—and push her mind and body to their limits. Text by Jamie Quatro; photographs by Kyle RM Johnson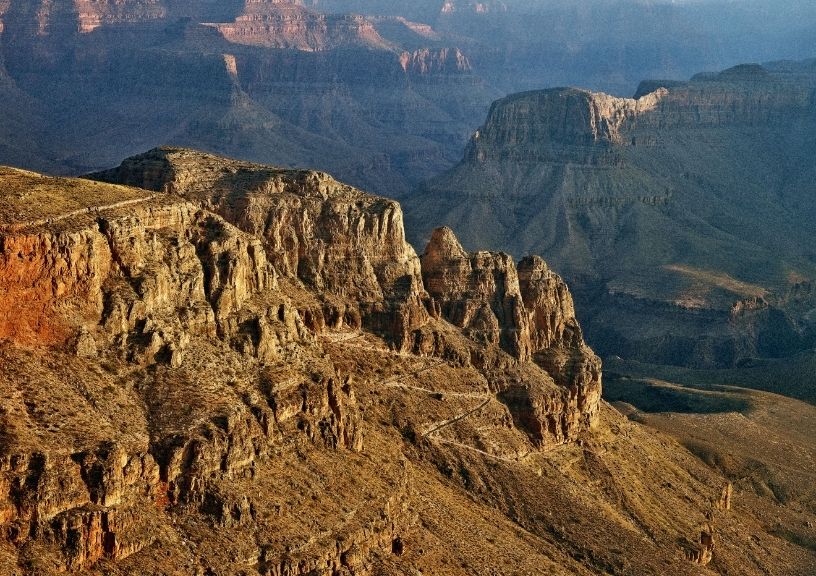 You learn quickly, on the trails, not to ask questions of passing hikers. They're on the way up, working hard to summit before the heat of the day. You also end up with conflicting information. My brother Johnny, who planned our rim-to-rim hike of the Grand Canyon, had just learned that part of the North Kaibab Trail was washed out. It's a treacherous section, a narrow cliffside pass with a steep drop on one side.
I didn't know this at the time. We weren't due to reach the washed-out part until the third day. Johnny knew that if he told me on day one, I'd only worry. I found out later that whenever I was out of earshot, he was talking to hikers coming down from the North Rim. How bad was it? Answers ranged from "It's nothing" to "It's definitely sketchy" to "Don't even try it with your pack on."
Johnny and I are from Tucson, Arizona. In college we often went on adventures together. We skied the moguls at Sunrise and the bowls at Alta and Snowbird. When I was a student at Princeton, Johnny came to visit and we took the train to New York City. We climbed to the tops of as many buildings as we could, including the Statue of Liberty.
Eventually, I got married and moved across the country with my husband and our four children, while Johnny stayed in Tucson with his wife and their three kids. Now, in middle age, we'd found another opportunity to travel together: we were two native Arizonans who had never been to the Grand Canyon. But I'd seen plenty of pictures, and thought I knew what to expect. What I was looking forward to most was the physical challenge. I would be hiking 38 kilometres in three days with a 1,340- metre elevation drop the first day, a 1,828-metre gain the last, and 11 kilograms on my back.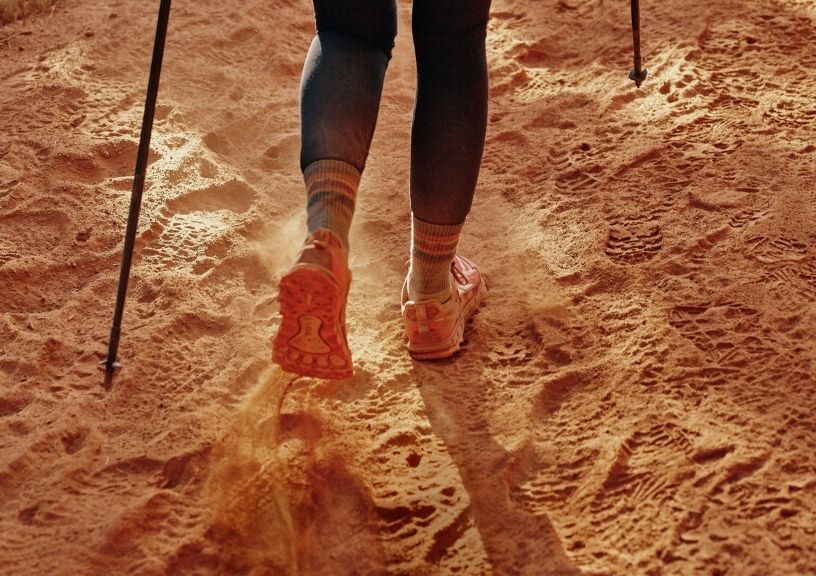 As it turned out, I got to see only a few of Colter's buildings—we didn't have the time, and access was restricted because of COVID-19. It was just as well, because when we arrived on the South Rim and I glimpsed the chasm behind Bright Angel Lodge, I had to sit to keep my knees from buckling. The setting sun illuminated the gradations of colour on the west-facing wall—a majestic, not-of-this-world immensity, almost frightening in scope. Suddenly, this was the architecture I wanted to understand.
The story of the Grand Canyon's formation is a push-pull conversation between land and water. Millions of years ago, the region was covered by an ocean. Over time, this ocean swelled and receded, over and over, forming layers of sedimentary rock: limestone, sandstone, shale. And then, something explosive happened. Tectonic plates collided, pushing up these layers of rock from beneath the ocean to form the Colorado Plateau. Streams from the Rocky Mountains merged to form the Colorado River; the river's steep gradient gave it a current that could transport large pieces of debris. The river was liquid sandpaper. It cut down through the plateau like a hot knife through butter, exposing 1.8 billion years of geological history in its wake. Most people will never see these ancient layers up close. Of the park's estimated 5.9 million yearly visitors, only five per cent hike any distance into the canyon itself. Fewer than one per cent hike from rim to rim.
Standing on the South Rim that first evening, Johnny pointed to the trail we'd descend in the morning—a chalk- white ribbon unspooling in switchbacks and ending in a swathe of tufted dark green far below.
"Phantom Ranch?" I asked.
"Indian Garden," he said. "It's only halfway."
Day 1: South Rim to Phantom Ranch (16 km)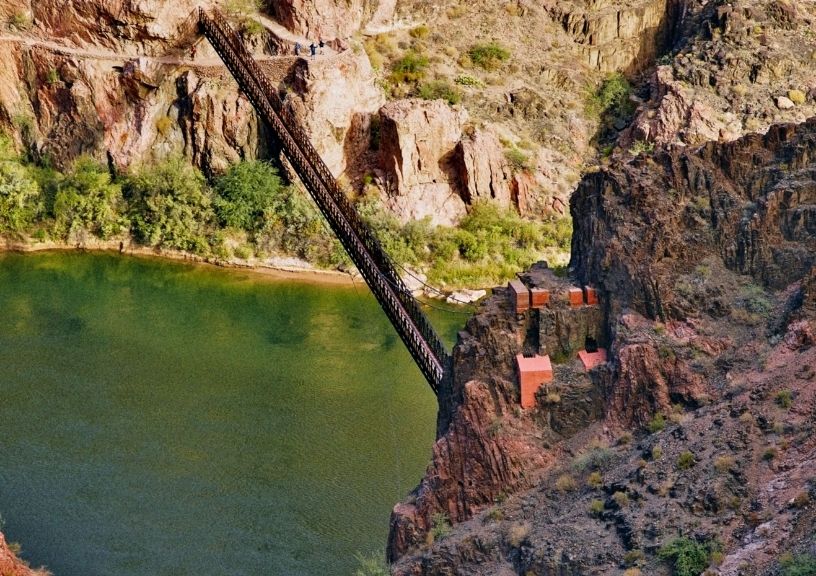 Johnny set a brisk pace. Bright Angel Trail is as wide as a sidewalk, which made social distancing easy when ascending hikers passed. We also wore neck buffs, which doubled as masks, though not many people were wearing them. We were surrounded by space and air and skyscraper-size monoliths of constantly changing texture and colour; the light taupe of the Kaibab giving way to the ochre of sandstone. I had to look down to hike safely, but I wanted to look up. Looking up meant stopping, which would use up precious time. We were trying to make it through the notorious Devil's Corkscrew before the heat set in. Even though it was September, we knew it could still reach 38° Celsius there. The temperature rose about three degrees for every 300 metres we descended.
Indian Garden felt both foreign and familiar: arid desert giving way to lush green plants I recognised from my childhood. Cottonwood, mesquite, creosote. Somewhere, the sound of a bubbling creek. We dumped our packs and filled our water bottles. I pulled out a sleeve of electrolyte tablets. "You want one?" I asked Johnny.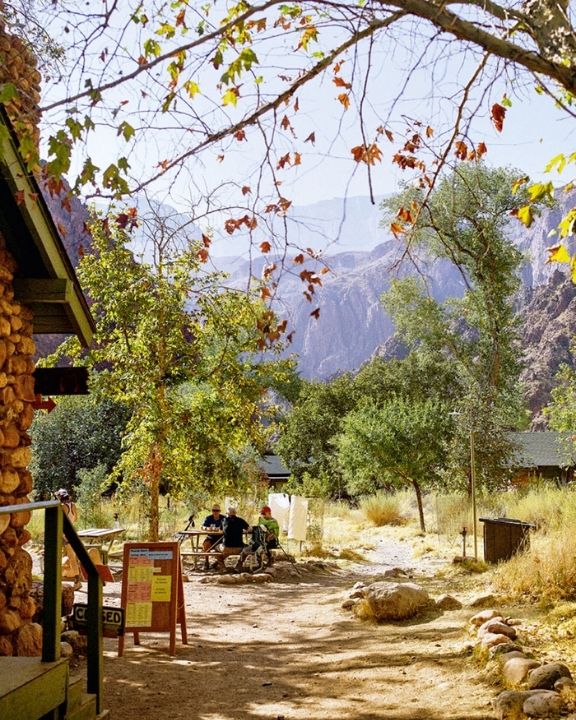 "I'm good with jerky," he said. Johnny's a physical therapist and experienced athlete, with extensive medical training; he knows his body's needs.
At Devil's Corkscrew we got our first glimpse of the canyon's lowest level, the Vishnu Basement Rocks. We traversed the zigzag switchbacks. We didn't beat the sun, and it was brutal. Both of us were red-faced by the time the trail flattened out. Sometime in the early afternoon we spotted a glimmer of emerald green between cliffs. We dropped our packs and ran, and there it was—the Colorado River, wider than I'd imagined. I put my hand in—shockingly cold, with a fierce current, even this close to shore.
We were eager to cross Silver Bridge and enter Phantom Ranch. But first we had to slog another kilometre and a half in deep, beach-like sand. It was 35°C. Johnny kept stopping and leaning forward, letting his ultralight pack rest on his back. "Can you see if my water bladder is leaking?" he asked.
"It's just sweat," I said.
Near the bridge a group of women passed us. 'Hiking out of 2020', their matching pink T-shirts said.
"I like your shirt," I told one of them. "Thanks," she said. "2020's a real bitch."
In her essay High-Rise, British naturalist and author Helen Macdonald recounts birdwatching at the top of the Empire State Building and experiencing a sense of inversion: the city sky as an ocean teeming with life, skyscrapers as "deep-sea submersibles" dipping into the shallows. It was this feeling of being upside-down that began to unsettle me on our first night. I'd only ever hiked up a mountain, not inside one. I wondered why the concept of descent has pejorative connotations—why we say someone descends into addiction but rises to the occasion; why heaven is up, and hell down.
Mary Colter was hired to design Phantom Ranch in the 1920s as an oasis of hikers' cabins, constructed out of native stone and wood. The plan was to name the place Roosevelt Chalet, in honour of former US President Teddy Roosevelt, but Colter refused to begin work until her chosen name was adopted. We bathed in Bright Angel Creek and set up camp, putting our food into the bear box provided by the campsite and hanging our packs on poles. Cori Oakes stopped by. She's been a park ranger at Grand Canyon for seven years, conducting river and backcountry patrols and monitoring the campgrounds. She told us to leave our empty packs unzipped. "The ringtail cats will tear into everything that's not left open," she said.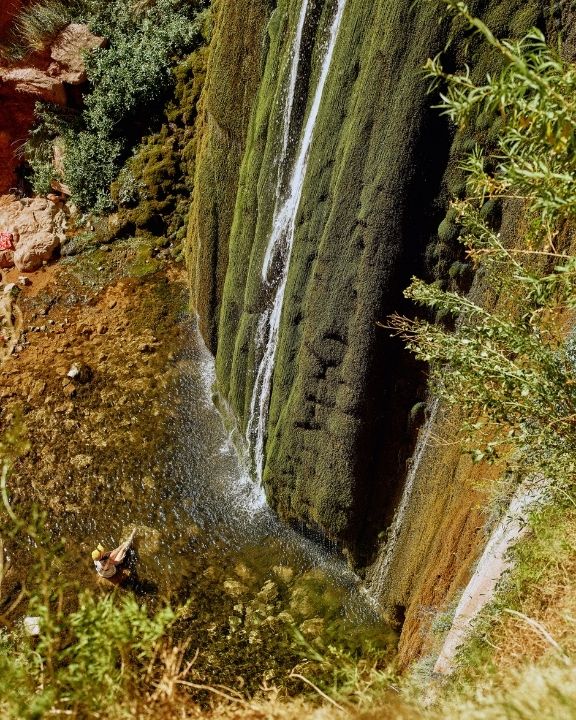 Johnny and I walked over to the canteen at Phantom Ranch. Lemonade, fresh apples, chocolate. Bless the pack mules, who are still the only means of getting supplies down into the canyon. We sat in the dappled shade of a mesquite and talked to people from California, Idaho, Wisconsin. One couple who hiked down from the South Rim had just learned they couldn't hike up the other side because they didn't have a ride back. The return shuttles weren't running—coronavirus again. Johnny and I were lucky: a man named Pat, who works at the North Rim's Grand Canyon Lodge, had agreed to drive us.
Dinner was salad, chilli, corn bread, and a blondie for dessert. Johnny wasn't eating much. We returned to camp, and there was nothing to do but go to bed. I heard my brother tossing and turning in his tent. Sometime later, I heard rustling and switched on my headlamp to see the black-and-white ringtails, ghostly marauders searching our empty packs.
Inversion. A mile-high mountain turned upside down. There was something deeply isolating about being down there. If anything went wrong, airlift was the only way out. On the other hand, I looked up through my mesh-topped tent, and there were more stars than I'd ever seen in my life—meteors skywriting in glow-in-the-dark green—and everything was alive with sound: the pebbly creek, the rustle of ash trees, the chattering rock squirrels, the lowing of mules, the laughter of nearby campers. Sometime after 3 am, I heard the scuffle of fast feet on the trail as the first rim-to-rim runners passed through camp.
Day 2: Bright Angel Trail to Cottonwood Campground (11 km)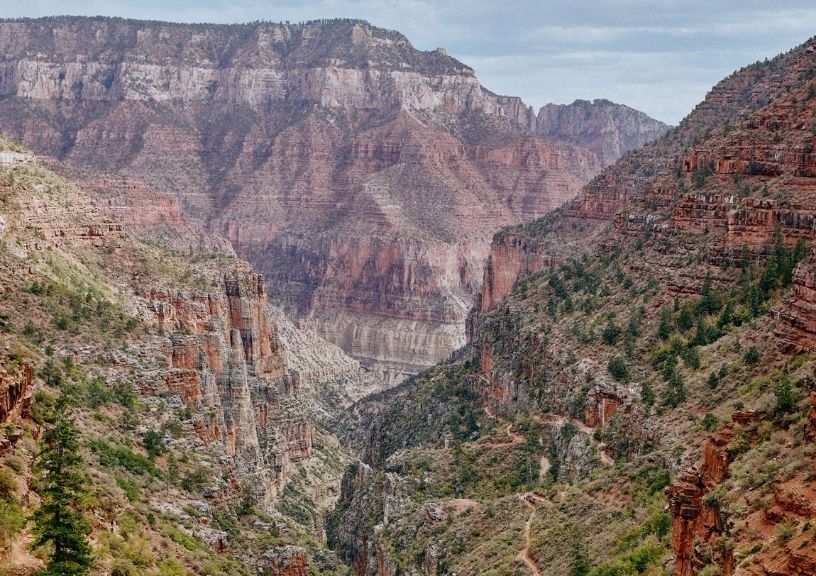 The second day was a cross-canyon hike with little elevation change. We needed to hurry to reach an area called the Box, a narrow section of trail infamous for its extreme heat. There were no water stops, but we'd have creek access to cool us down. The goal was to reach Ribbon Falls by 11, where we'd ride out the beating sun.
The terrain was astonishingly different from the previous day's. I could see the Vishnu layer close up, grey-black and shot through with pink and white granite. The trail felt intimate, charming even, without the steep drops and sweeping vistas. We made it through the Box with no problem, ticking off the 61⁄2 miles to the Ribbon Falls trailhead in less than three hours.
Ribbon Falls is an unlikely lush microclimate. Water cascades over the edge of red cliffs 36 metres above, falling for 27 metres before hitting a nine-metre-tall, dome-shaped, moss-covered mound of travertine. We swam inside the hollow grotto and hiked up to stand beneath the falls. The place felt enchanted, a Mars-meets-Hawaii alcove rich with maidenhair ferns, golden columbines, and monkey flowers.
We sat in the shade of an overhang beside a group of young hikers. They were all smoking weed. One of them, when he learned I was a writer, began to lecture me on the responsibility I had to not write about this place.
"Dude, it's the Grand Canyon," my brother said. "Do not write about it," the young man said. Later he apologised—"it was the weed talking"—but I understood his concern. The fact that there were only eight or nine of us at Ribbon Falls felt singular. I wondered how populated it was pre-COVID.
It was there we met a hiker who goes by his trail name, Calves. He was walking the Arizona Trail from the Mexican border to Zion National Park, in Utah. He was knowledgeable, EMT-trained, a legendary "nutter" with a pace faster than most runners and a nomad's lifestyle. He told us he made his fortune in the world of investments, then gave it all up and left the US to travel the world on foot.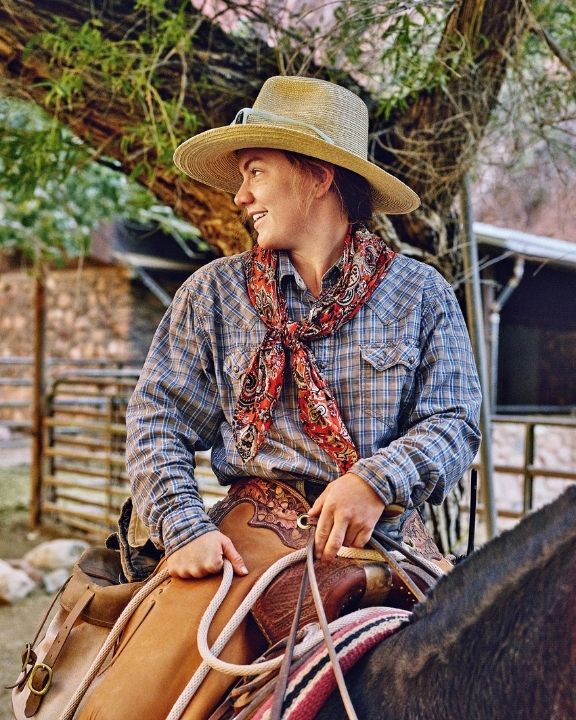 "I've been out of the country for eight years," he said. "COVID brought me back."
Johnny was lying down. He felt shaky and had a headache. "I'm not dehydrated, I've been drinking so much water and eating jerky." Calves handed him an energy brownie—his only food, given to him by another hiker—but Johnny refused to take it. Calves insisted. "Every time I give something away, I get something in return. Karmic balance, man."
That evening at camp, ranger Kai Wise stopped by for a chat. Wise works seasonally, spending seven months of the year in the Grand Canyon. He told us about the scrawny young men brought in by FDR's Civilian Conservation Corps to build the trans-canyon telephone line—how the government wanted to promote the idea of the "heroic worker in the wild," the notion that they'd rebuild the country by rebuilding the male body. I thought of the contrast to Mary Colter's sustainable approach to development, her incorporation of native materials and consultation with the Indigenous peoples.
"By the way, the water's just been turned off above Manzanita House," Kai said. "You'll have to pack out enough to make it to the top tomorrow. And a dicey section of trail is washed out. Don't worry, there are ropes you can hold on to."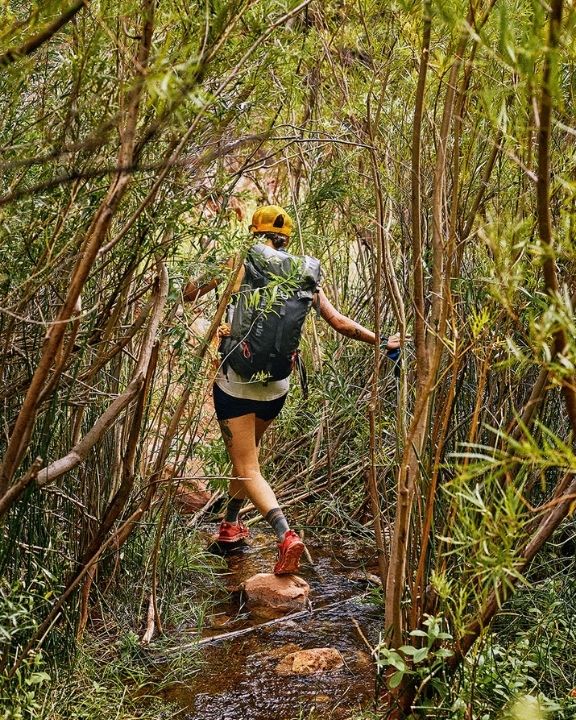 "Do you think it's okay to do it in the dark?" Johnny asked. "We're trying to hike out early and beat the heat."
"I would not advise that," Kai said.
It was a sleepless night. I got up once, sending tiny mice scattering like buckshot when I stepped out of my tent. Johnny was awake and pacing. "Let me eat one of your electrolyte tablets," he said. As soon as he put it in his mouth, he moaned. "Oh my god," he said. "Give me another one." My brother knew it was likely hyponatremia, a dangerous condition in which the body is overhydrated and salt levels fall too low.
He hadn't considered how much he would sweat in the canyon basement.
Day 3: North Kaibab Trail to North Rim (11 km)
We got up at 4 am, ignoring Kai's advice. No water after Manzanita had trumped fear of a washed-out trail. We decided it was best to start early and get to cooler elevations before the sun hit.
I took the lead. The washed-out section appeared within a kilometre and half. When I saw the slippery gravel cross- sectioned with ropes, all I could think was Thank god I'm doing this in the dark. I didn't want to see the drop-off. I began to climb over each rope—this was easy, this was nothing!—and reached the opposite side. But I discovered that, in order to regain the smooth trail, I would have to negotiate a one-metre-high step up. My pack, which was filled with extra water, was too heavy. I needed to take it off. But I couldn't take it off—I was terrified to let go of the ropes.
I felt Johnny unsnap the waist belt and lift the pack from my shoulders. From behind he shoved me up. I scrambled forward and turned around to see him step up with ease, wearing his own pack.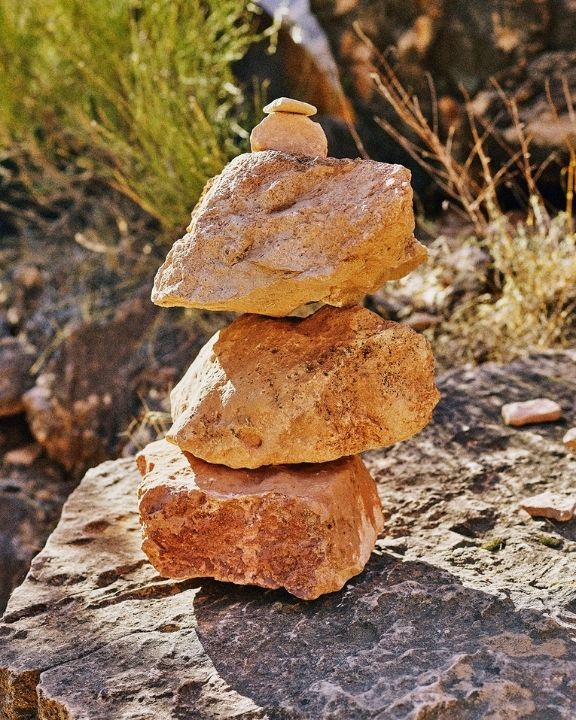 "Wow," he said. "That was nothing. I can't believe I worried about it for two days."
The North Kaibab Trail was steep and spectacular, a narrow path with dizzying cliffside drop-offs. Johnny's electrolyte balance was levelling out, and we made the ascent fast. The ponderosa pines were just yards above us, and the temperature was cooling by the minute. The beautiful Grand Canyon Lodge on the North Rim, where we had booked two rooms, was waiting.
The last three odd kilometres were another slog through clay-coloured sand. We reached the iconic Supai Tunnel, took a photo, and kept going till we reached Coconino Overlook near the summit. I sat down to take in the view. Yellow aspen leaves trembled in the cool breeze. "I've imagined standing in this spot for years," Johnny said.
At the summit I collapsed beside the trailhead marker and let myself cry. Just then a man in a 'Georgia' sweatshirt stumbled toward the trailhead. The smell of alcohol on him was strong.
"Hold up," Johnny said. "Have you hiked the canyon before?"
"Dozens of times," the man said.
"So you know what you're getting into, drunk," Johnny said.
"Drunk is the only way to do it," he said. "I'd be terrified otherwise."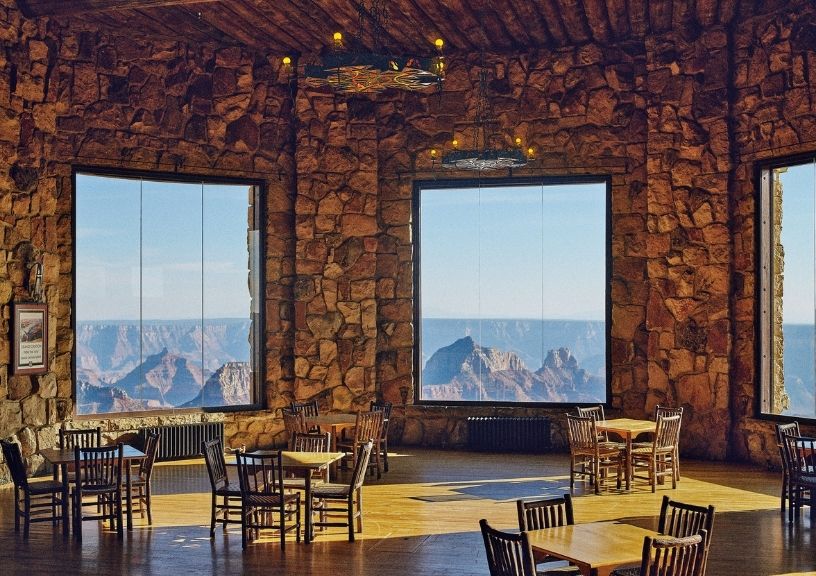 As promised, Pat drove us back to the South Rim the following morning. He's a gentle, soft-spoken man who works as the maintenance manager at Grand Canyon Lodge, which is closed from October to May. The yearly snowfall there averages 360 centimetres. Pat told us that he was one of only five people who had stayed on the North Rim last winter. We learned that it was Pat's 73rd birthday that day. We sang Happy Birthday to him, feeling a little sad that the story of his special day would involve six hours in a car with a couple of strangers. But Pat seemed content to drive and talk. He told us about the formation of the canyon, how an ocean used to cover everything from Utah to the Sea of Cortés, and how there are still shell and sponge fossils visible in the topmost Kaibab layer.
"You know what Kaibab means, don't you?" Pat said. We told him we didn't.
"Upside-down mountain," he said, "or lying-down mountain, I forget which. But the Native languages—they got it right."
Exploring the Canyon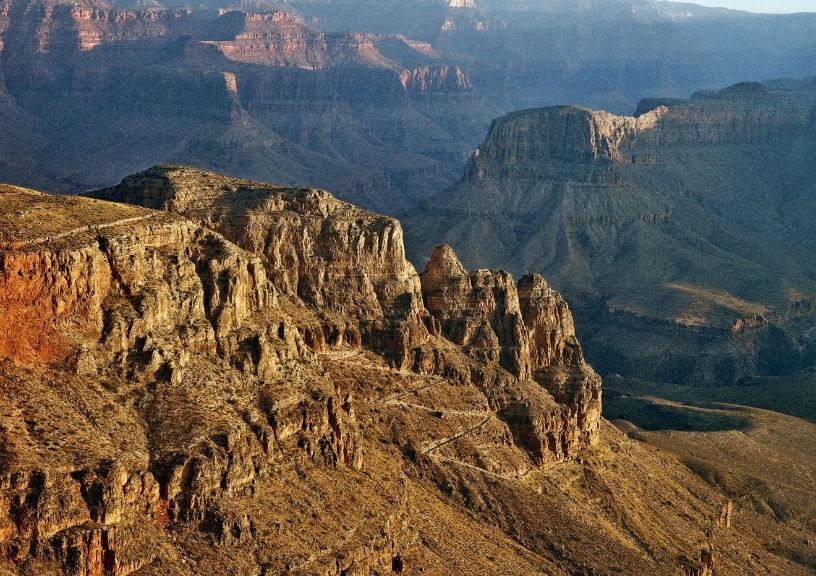 Getting There
Phoenix Sky Harbor International Airport (372 km) is the closest major international airport to the South Rim. The nearly 38-kilometre rim-to-rim hike is open from May to October, and can be completed in either direction. Permits, which are required, are awarded by lottery (INR 730 per person). With the dry climate, possibility of extreme temperatures, and steep ups and downs, it's a physically strenuous endeavour even for experienced hikers.
Stay
Grand Canyon Lodge
Cabins and motel-style rooms are available at this property with stunning views on the less-visited North Rim. Doubles from INR 10,653.
Phantom Ranch
This camp, which sits at the bottom of the canyon, offers comfortable cabins next to Bright Angel Creek. Doubles from INR 12,550
Do
Non-hikers can explore the Indigenous-inspired stone structures of architect Mary Colter, including the 21-metre-tall Desert View Watchtower, Hopi House, and the Lookout Studio, all on the South Rim. Also on the South Rim— where the vast majority of tourist sites are located— are the most dramatic viewpoints, like Lipan Point, known for its epic sunset scenes. There's also Desert View Drive, which begins at Grand Canyon Village and passes through several overlooks, picnic areas, and the Tusayan Ruin & Museum, dedicated to ancient Puebloans.
Related: Trek The Devil's Canyon In Goa For Some Thrills And Chills!