Hanifaru Bay in the Maldives is one of the few places in the world where reef manta rays are seen feeding in huge numbers and whale sharks congregate to mate. Our contributor takes the plunge to witness the many underwater spectacles of a UNESCO Biosphere Reserve. By Misbaah Mansuri
Breathe in. Breathe out. Breathe through your mouth. Don't touch the coral reef. My mind whirred trying to remember all of the snorkelling instructions. Colourful schools of fish darted out of my way, making room for this newcomer flailing about in their water. This was my first encounter with the aquatic world. For a non-swimmer, Maldives had always meant a soak in luxurious villas and elaborate spa treatments. Its stunning coral reefs never appealed to me like they did to more adventurous visitors. I was hoping to be proven wrong this time.
One of 26 atolls in the Maldives and a UNESCO Biosphere Reserve, Baa Atoll covers an area of 1,200 square kilometres and is home to some of the richest coral reef systems in the world. Its crown jewel is Hanifaru Bay, a long and narrow bay capped by an uninhabited island roughly the size of a football field. The area might be small, but it has a lot to offer. With overhangs and swim-throughs, this site boasts some of the most fantastic underwater views and has earned a reputation as a manta hotspot, as it attracts hundreds of elusive rays on certain days.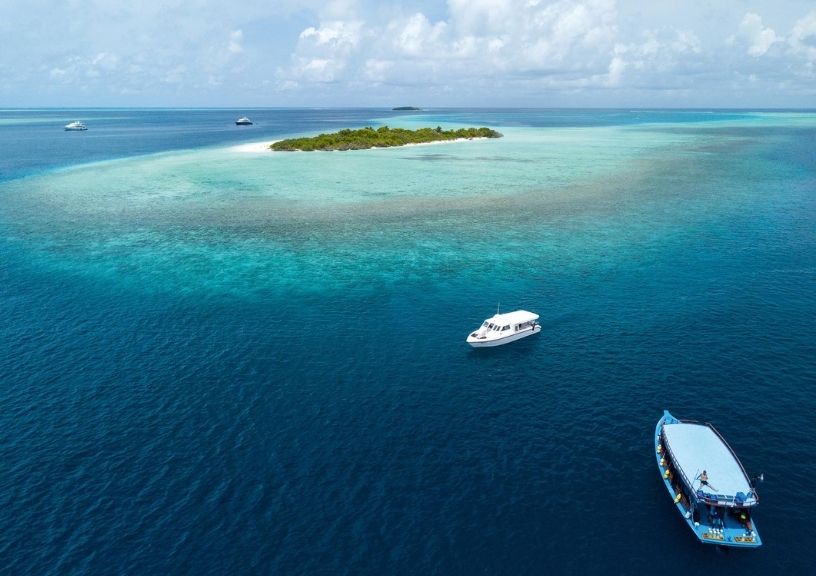 Just like dolphins, mantas are known to be intelligent and curious, often approaching humans of their own accord. They form social bonds easily and exhibit collective behaviours like playing and foraging. I was surprised to learn that reef manta rays also actively choose their social partners.
Before my expedition, I had been informed that access to Hanifaru Bay is regulated and possible only by means of taxi vessels. The resort I was staying at arranged a visitor token from the Hanifaru Visitor Center that allowed 45 minutes of access. A pleasant 40-minute boat trip from the property took me to the designated area outside the bay, from where I slowly swam towards Hanifaru, led patiently by a certified guide. "Don't go too close to the mantas and whale sharks, and don't touch them," he instructed.
The bay funnels inwards from a depth of 25 metres to a slope that tables out at two metres and continues over a shallow, rocky reef. As I passed through steeply banked white sand dunes on the sea bed, panic set in. But a few metres further, I could see an extensive sand flat peppered with coral heads. Here, the diving conditions weren't challenging—the current was negligible and the depth maxed out at 20 metres.
During the southwest monsoon that runs from May to November, an upwelling current from the deep waters to the east brings an abundance of plankton to these waters. The copepods are dramatically plucked from the depths and deposited into the shallows of Hanifaru Bay. They become trapped in the lagoon, and their concentration attracts plankton predators.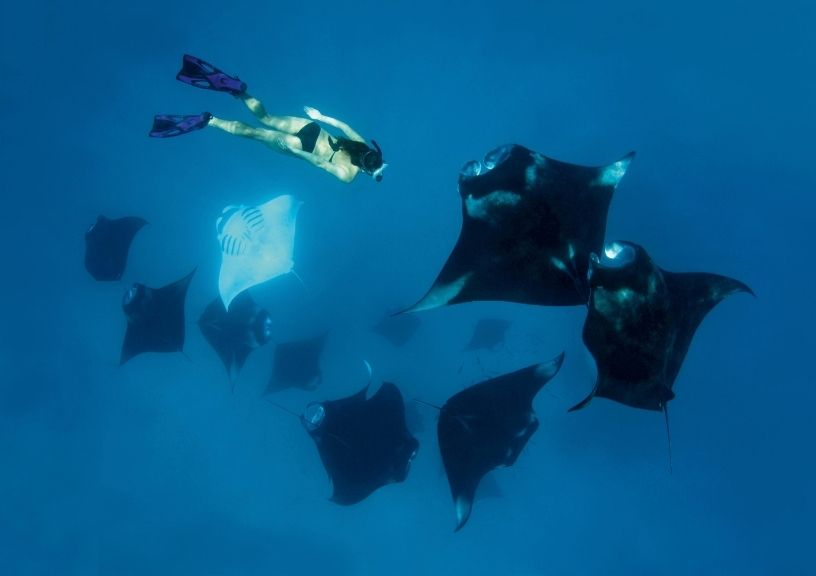 I knew all of this in theory. But the arrival of copepods was sudden. Out of nowhere, a swarming cloud of tiny black dots emerged. I spotted small schools of fish moving upwards from the corals, darting frantically to grab the sudden serving of food. Before I realised, I was following a huge congregation of reef manta rays. The shock came from the sheer number of rays that showed up just in time for plankton happy hour. They shared the feast with their fellow filter-feeders, whale sharks. There were so many rays, and they were all so busy feeding, that they did not mind the human spectators in the water.
Just like patrons lining up for happy hour outside their favourite bar, the mantas queued up, heads kissing tails, flapping their wings as they attempted to avoid collisions. Their synchronicity was particularly impressive given the mantas' peculiar barrel-roll movements. As a ray encountered nutrient-rich waters, it would break into a backward somersault to stay in place—a majestic bit of manta behaviour to witness.
Yet another incredible sight was that of gigantic whale sharks gradually manifesting from what looked like faint shadows in the water. Several of them can be seen here as they congregate to mate. Despite their frequent spotting, not much is known about whale sharks. Their migratory patterns and diving depths and times are not known for sure, making the mere sight of these mysterious creatures a fascinating experience.
On terra firma, we often assume we know this planet and its inhabitants. But witnessing life in the oceans, which make up 71 per cent of the planet, is a humbling and eye-opening journey.
Sometimes, taking that leap of faith can lead to the most surreal experiences. In the waters of Hanifaru Bay, I learnt to live by the unwavering spirit of the ocean: go with the flow and let life surprise you.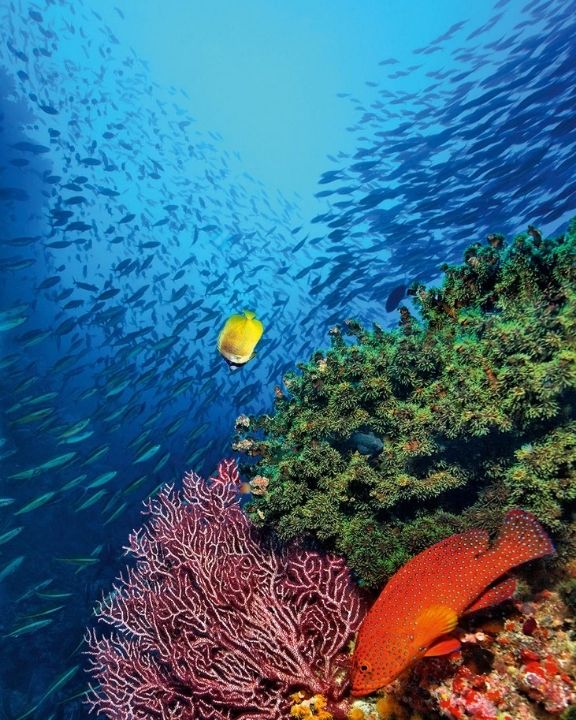 GETTING THERE
IndiGo offers direct flights to the Maldives from Mumbai, Kochi, and Bengaluru. GoFirst (previously GoAir) operates direct flights from Delhi, Bengaluru, and Mumbai.
STAY
It's essential to plan a stay at a resort that is reasonably close to Hanifaru Bay. Fortunately, there are multiple options near Baa Atoll.
Anantara Kihavah Maldives Villas: This tropical paradise offers 80 beach and overwater pool villas, the Maldives' only over-water observatory, six restaurants, and a lovely spa. From INR 1,00,000
The Standard, Maldives: This high-end resort with its airy, overwater villas, great restaurants,  impeccable spa, disco, and bonfire nights boasts a luxurious, high-energy party vibe. Its naturally protected house reefs make it a great option for snorkelling. From INR 1,20,000
SEASON
Water visibility at Hanifaru is 20 metres on a good day and five metres on a bad day. The number of manta rays amassing in the lagoon is inconsistent. Twenty to 50 are common, while on banner days, one can expect more than 200 rays. So, research is imperative before planning this expedition. Resorts are usually notified by the local certified expert on the manta sightings. August to October is usually the best time to witness the feeding and mating behaviours of mantas and whale sharks, respectively.
TIPS
Only snorkelling and freediving are allowed in the bay, in order to avoid harming the ecosystem. Boat access and mooring, too, are regulated so as to limit any disruption to aquatic life. Tourists are led by certified guides and get 45 minutes in the water with the mantas and whale sharks. It is advised to move slowly and let the mantas approach you while staying near the surface to make use of sunlight for photos and videos.
Related: Rendezvous With Manta Rays At The Westin Maldives Miriandhoo Resort