Offering a mix of stillness, spirituality, and Siddha, a trip to Svatma in Thanjavur promises to soothe the mind, body, and spirit. By Devanshi Mody
"May I send a picnic basket with your airport pick-up?" Brindha Ramprasad, Svatma's front-office manager, messages me. There's a sense of warmth and welcome in the message, immediately conducive to well-being. Chauffeur Mani, our old friend from previous visits, greets us at the airport, handing us resplendent baskets teeming with local snacks so fresh they are still warm. Mani's driving is as swift as his mind is still. Here lies a philosophical message for the experience that is Svatma.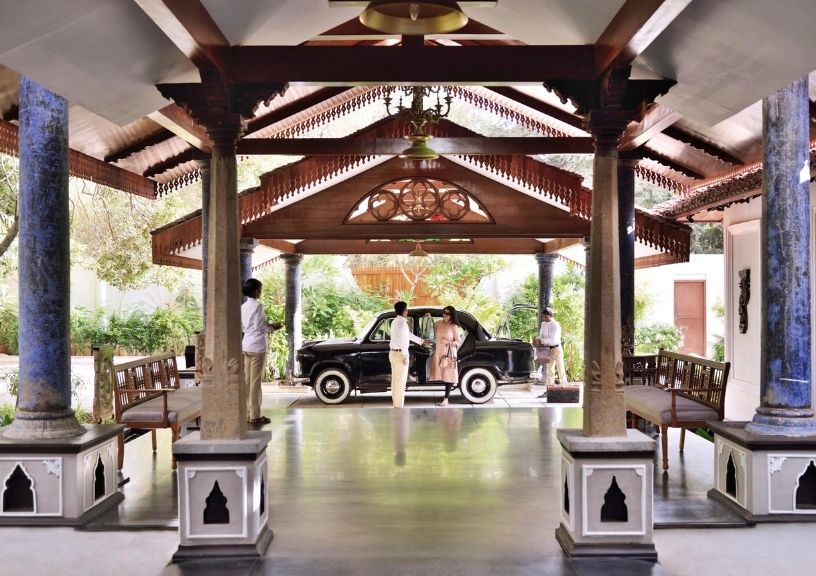 On arrival, Brindha anoints us with tilaks, offers exotic herbal libations like panakkam, nannari, and vasanta neer. Then, she escorts us to the Heritage Swappanam Suite. Beautiful floral arrangements and brass figurines bearing jasmine in cupped hands exude a hypnotic scent; stately Chettinadu pillars standing behind the antique four-poster bed evoke trees: it's as if the outdoors are ushered in. This suite comes with its own terrace embowered in the gushing foliage of a neem tree, conjuring the Tree of Life. Birds encrust the tree. They serenade all day, deep into the night. Swaying on an old rocking chair on the terrace, observing two birds in the tree, I recall the parabolic birds of the Mundaka and Svetasvatara Upanishads symbolising the jivatma and paramatma. One may see metaphors in the lavish bathrooms, too, where the central stand-alone marble-topped basin boasts a two-faced mirror, framed in a tree-shaped stand, seemingly reflecting that mental and physical wellbeing are two faces of the same coin. I'm snatched from the reverie by the jangling phone: the Siddha doctor has arrived for our consultation.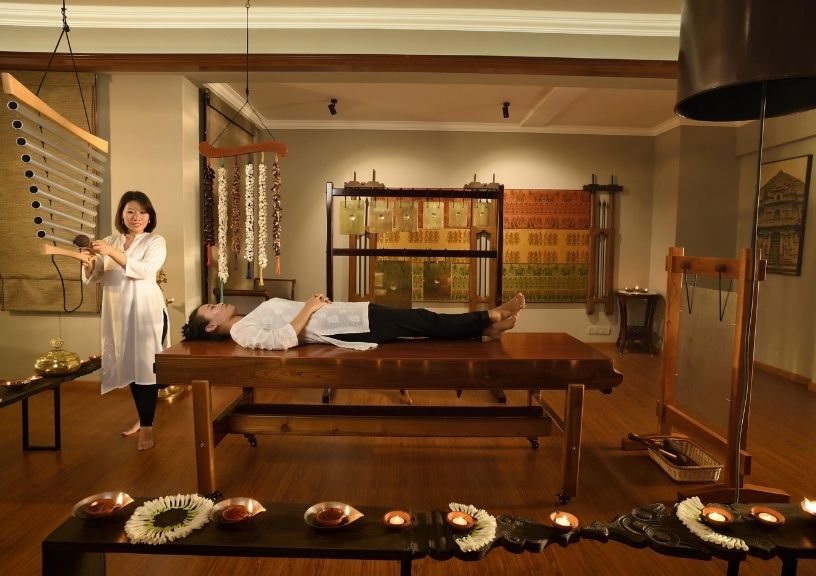 Dr Aravindar awaits us, haloed in calm. Alert, amiable, and sage-like, he is undaunted by my mother's exuberant queries regarding her ailments. When I can finally query Dr Aravindar, he explains that straddling therapies of an ancient age and afflictions of a modern era elucidate the essence of Siddha, which originated in Tamil Nadu and predates Ayurveda. It is also what Svatma's Soukyam Spa specialises in. Both, Siddha and Ayurveda, are based on the five-element theory and tridoshas. In Siddha vata corresponds to creation, pitta to protection, and kapha to destruction, whereas in Ayurveda the correlation is vata-destruction, pitta-protection, kapha-creation. Here, the philosophical approach to treatment varies. He further elaborates, "Siddha considers the human being as a universal entity, so macrocosm and microcosm are concomitants: change in environment impacts human existence."
The therapies at Svatma's spa entwine Siddha, naturopathy, and yoga into a holistic approach to well-being. We've been religiously ingesting heaps of herbs and spices Siddha prescribes; Dr Aravindar elucidates that taking specific combinations in controlled proportions is imperative.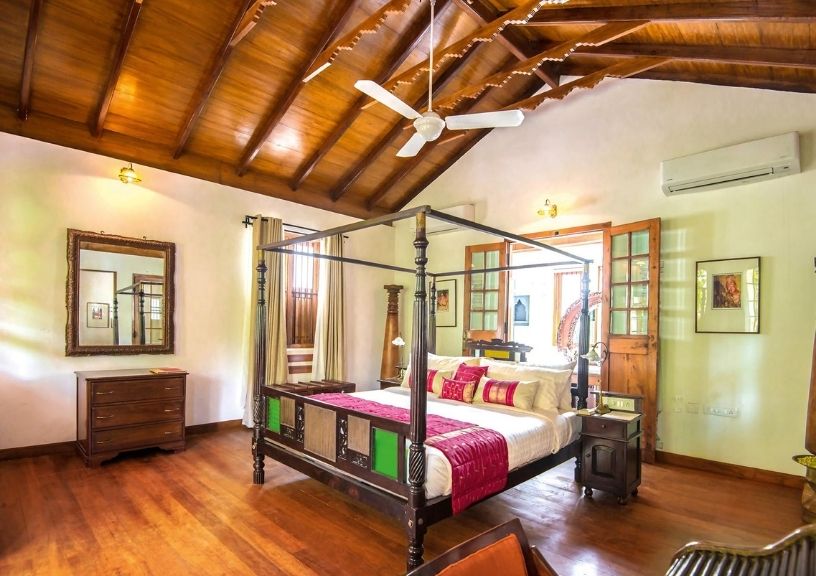 He next designs our spa itinerary, inaugurated with a Head, Shoulder and Foot Massage, which can be experienced by the pool that stunningly recreates a temple tank splashed with contemporary swank.
If the Marathas once ruled Thanjavur, then another Maratha reigns on at the Soukyam Spa. Maharashtrian spa manager Mithun Bhoite engineers Siddha massages like Soukyam, whose acrobatic stretches reflect the hotel's gourmet gymnastics. This signature 90-minute massage incorporates extraordinary stretching. The supple will find their bodies twisted into wild contortions like some extravagant pose from the Kama Sutra. You feel your body is opening up like the sahasrara chakra.
Over seven days, deft-handed therapists Numa and Hema ritualistically perform this massage on us. Our spa voyage includes a detoxifying body scrub comprising local rice (Thanjavur boasts 60 rice varieties!), ghee, and a wrap of chandanam, milk, gram flour, and honey. One day I find myself Cleopatra-like in a bathtub with not Caesar but my mother! Immersed in ablutions of milk, honey, and chandanam iridescent with rose petals undulating on golden-hued waters, we seem to be simmering in the setting sun gorgeously crimson-streaked.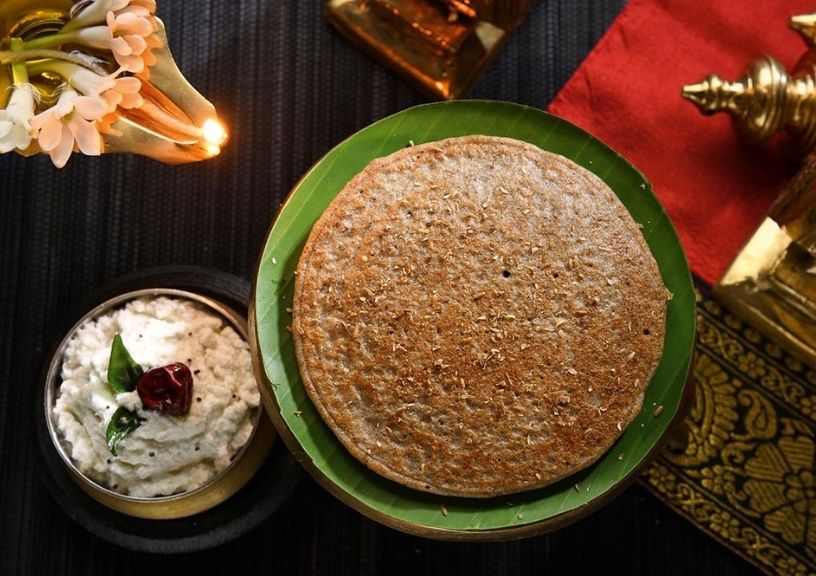 I leap out of the spa nimble to walk every evening to Rajaraja Chola's stupendous Brihadeeswarar Temple, which was shut when we visited Svatma earlier this year. Then we strangely enjoyed pandemic-enforced confinement, preoccupied as we were with Svatma's culinary extravaganza! Svatma customises Siddha diets, but it would be foolish to sacrifice this all-vegetarian retreat's supper menus, which contemporise South Indian cuisine.
South Indian speciality chef Samyappan, whose ghee dosa is as ethereal as the matinal Vedic chanting at Svatma, surprises us one evening with 'destination dining' on our private terrace. I doubt the food will reach us in irreproachable condition but Aruntony, our steward, delivers perfection.
Another private dinner surprises us in the hotel's plush gardens. Continental speciality chef Swiss presents a culinary carnival worthy of a Michelin star. Think dainty dwarf appams with jackfruit rillettes; velveteen pumpkin and galangal soup with crispy okra; Mudukathan rice with cauliflower and peas chutney; wafer-thin confit tomato on Mandarai leaves; raw mango tortellini in saffron cream; and the 'Flowers of Thanjavur' dessert, comprising blue pea ice cream, frangipani cake, and jasmine sphere.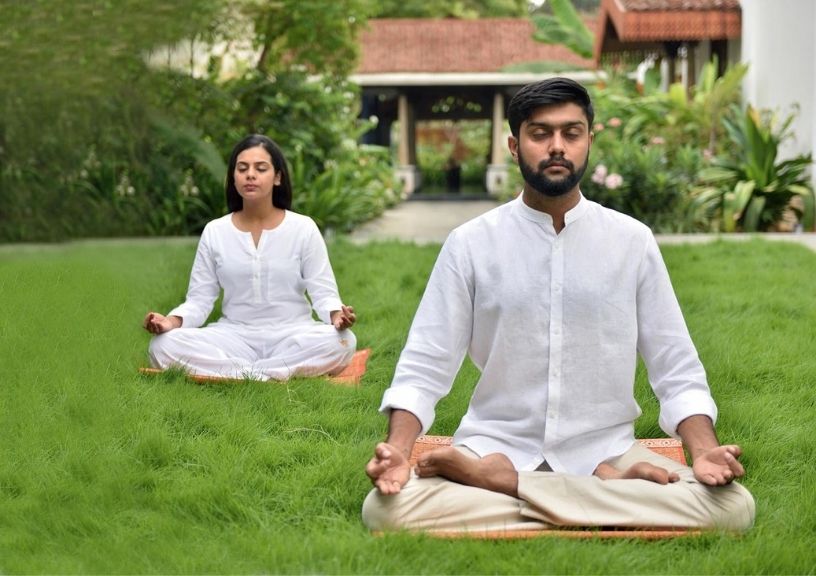 Swiss next unleashes degustations, including crumble-at-touch pies and a terrific eggless tiramisu. I pause plundering it to remark that when all of Thanjavur swelters, trees in Svatma's gardens sway coolly. There's becalming energy here. I wonder if it's due to owner Krithika Subrahmanian's adherence to Vaastu Shastra. Once sceptical, I now feel we must listen to what the universe is saying.
Enhancing the spirit and spirituality of the Svatma experience, temple aficionado K Sridhar, Svatma's general manager, dispatches us on a temple tour that features esoteric gems in Tamil Nadu's spiritual epicentre. We embark to the ancient Adi Vinayagar Temple, unique for its human-headed Ganesh; the Mukteswara Temple, where Ram performed tarpanam for Dashrat; and the Papanasam Temple with 108 lingams where Ram worshipped after vanquishing Ravana.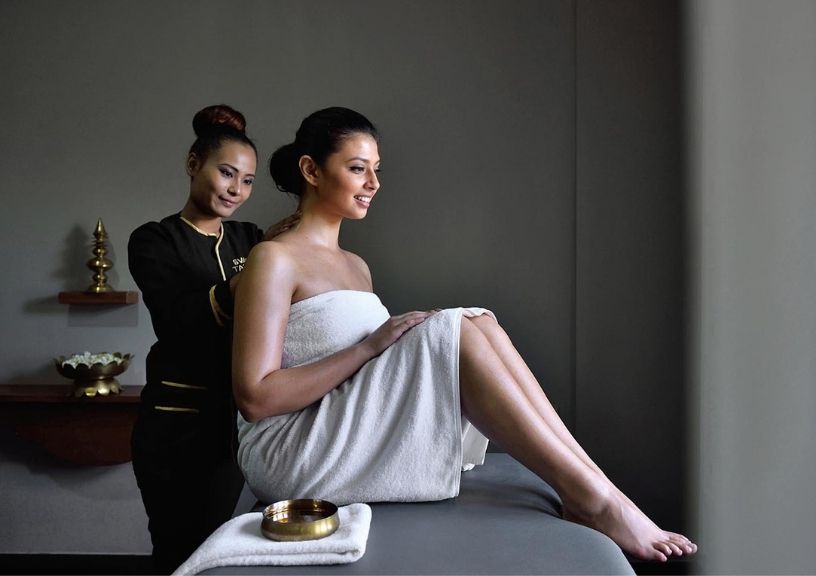 The pilgrimage has us feeling that a Svatma sojourn transcends mind, body, and spirit. The spa might fetch you a mind finetuned like antique veenas, a body gleaming like the bejewelled Thanjavur paintings adorning Svatma's Heritage Wing, and a spirit as lively as the swaying trees. But those mystical temples with their palpable energies are soul-stirring.
GETTING THERE
The nearest airport is Tiruchirappalli International Airport, a roughly hour-long drive from Thanjavur.
STAY
Svatma offers various wellness packages. Starts from INR 17,500 (excluding taxes) for two nights
Related: On International Day Of Forests, Debunk Siddha—India's Forest-Inspired Medicinal Remedies